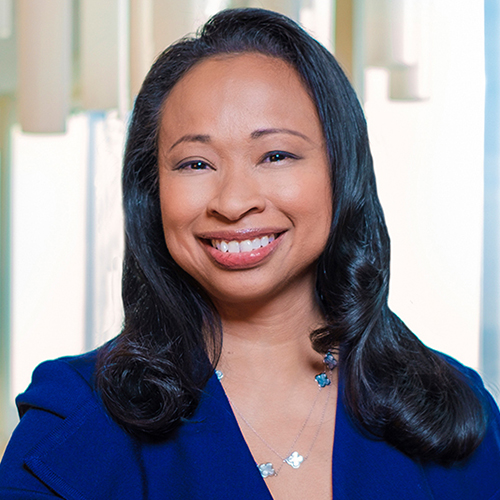 "We believe our role is to provide employees with the skills they need to steer the business in new directions and accelerate shared company results." So says Wilson-Scott, who rose to her position last year. She now oversees all DEI and philanthropic strategy for the corporation, including the $100 million it committed to advance social justice and equality. Under that commitment, she's focusing on employees, media, awareness and education, small business opportunity, social justice and digital equity—that last through initiatives like Comcast's Lift Zone program. She also helps drive partnerships that elevate startups founded by entrepreneurs of color through Comcast accelerator programs such as Comcast RISE.
What's one way your company has broadened the recruiting process to ensure greater diversity?
We are focused on driving intentionality throughout our hiring process. Our recruiting, development, and pipeline initiatives are designed to increase representation of marginalized communities at all levels, including requiring diverse hiring slates for open positions at the VP+ level, partnering with organizations to attract and develop underrepresented professionals in business-critical roles, and offering internal and external programs for high-performing employees and executives of color.
Our early career talent strategy starts with students in high school or college on the path to a full-time job with Comcast. We focus on campus recruiting at HBCUs and HSIs, while also marketing roles to partner organizations including Cristo Rey, The Emma Bowen Foundation, and the T. Howard Foundation, along with their alumni networks. And we have an ongoing presence on diversity-oriented job boards, such as Professional Diversity Network, Getting Hired, and Direct Employers.
Once someone is in the door, our work doesn't stop there. We believe our role is to provide employees with the skills they need to steer the business in new directions and accelerate shared company results. With initiatives like the Rotational Leadership, Financial Leadership, CORE Technology, and CORE Finance programs, we can give participants enterprise-wide exposure across Comcast, NBCUniversal, and Sky to ensure they are supported well beyond landing a role in the organization and have the space to develop as leaders.
Beyond these efforts, we're helping to grow the career pipeline for women and people of color through strategic partnerships with nonprofits such as Reboot Representation, which leads a coalition aiming to double the number of Black, Latina, and Native American women graduating with computing bachelor's degrees by 2025, and Per Scholas, which provides individuals with tuition-free tech skills, training, and access to employer networks.
How would you rate the industry regarding gender bias in shows/characters?
While there is progress being made, the industry can and needs to do more to have women represented in the director's chair, and to provide talented female directors with the same opportunities as their male counterparts. According to McKinsey, only 27 percent of C-suite positions in media and entertainment are held by women, and that lack of representation can have rippling effects—both in front of and behind the camera.
NBC's annual initiative, Female Forward, aims to solve that problem by giving female directors a pipeline into scripted television by shadowing directors on up to three episodes of an NBC series. Their experience culminates with each participant directing an episode of the series she shadows. The goal is to continuously increase the pool of experienced female directors and reverse the untrue narrative that there aren't enough qualified women available to choose from.
We also recently announced our expanded Spellcheck for Bias partnership with The Geena Davis Institute on Gender in Media. The program aims to grow authentic onscreen representation and casting opportunities for underrepresented talent. Through Spellcheck for Bias, scripts are analyzed to identify representation of characters and percentage of dialogue by gender, race, LGBTQ+, disabilities, Age 50+ and Body Type as well as flag stereotypes and tropes. It is an innovative approach to addressing the complex issues of inclusivity and equity throughout the entertainment industry—in the past year alone, nearly 20 NBCUniversal scripts in development utilized Spellcheck for Bias.