The Magazine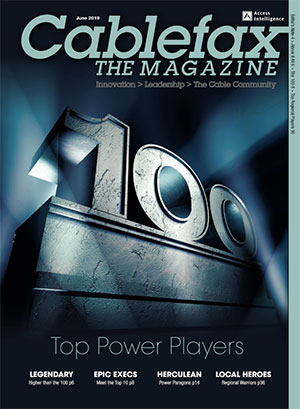 Current Issue: June 2019
Cablefax 100 – 2019
In this issue:
Drumroll please…Cablefax's annual must-read is here. Inside this magazine we feature the legendary and epic executives who have carved paths for the industry. The Cablefax 100 drive growth and stand strong in the midst of fast-paced change.
We rank our 100, salute those who are "above it all" and feature revealing answers to our famous Cablefax 100 questionnaire.
Browse and share individual profiles at www.cablefax100.com. You can also read the complete digital magazine.
Congratulations to the Cablefax 100 Honorees!
Read Digital Issue
Top Operators
Ad Space Close: July 1, 2019
Release Date: July 29, 2019
Most Influential Minorities
Ad Space Close: August 14, 2019
Release Date: September 16, 2019
Most Powerful Women
Ad Space Close: October 18, 2019
Release Date: November 15, 2019
---
Get your message to our readers!
To advertise in our special issues, contact:
Olivia Murray
omurray@accessintel.com
(301) 354-2010