The Magazine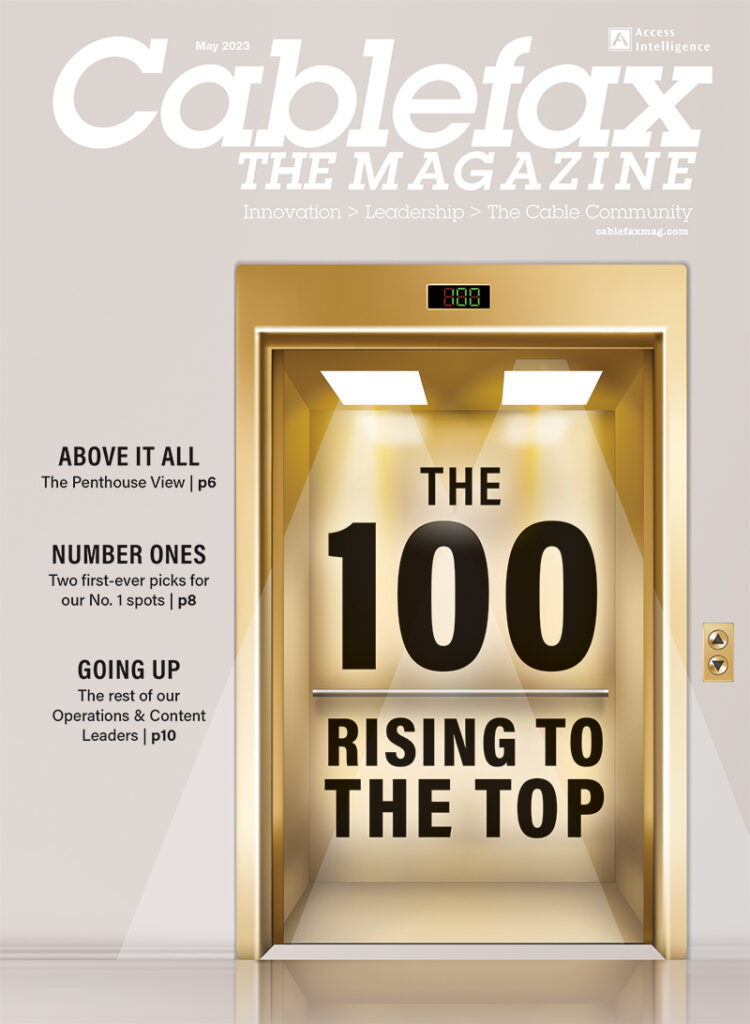 Current Issue: May 2023
Cablefax 100 Issue 2023
In this issue:
The Cablefax 100 is here! Cablefax celebrates the top Operations and Content leaders in its annual must-read magazine. In this ever-changing media and telecom landscape, there are some familiar faces along with a few surprises among this year's power ranking.
The issue is essentially two lists in one, with the top 100 in Operations featuring execs working for MVPDs, fiber providers, vendors and industry associations and the top 100 in Content featuring those individuals who are part of programming powerhouses with streaming and linear assets. We also pay tribute to those execs who have risen so high that they are part of our "Above It All" section. In a nod to the elevator pitch, we asked this year's honorees whom they'd like 30 seconds in an elevator with. They also weighed in on what impact AI could have on the industry's future, how they get their best ideas and what they would do if they owned Twitter — a question that is even more timely now than when we posed it!
Enjoy the digital version of the magazine, getting the download on each of our honorees as well as their answers to the famous Cablefax 100 Q&A. Visit www.cablefax100.com for shareable, individual profiles and even more Q&A content.
Read Digital Issue
Advertise in the 2023 Cablefax Magazine Issues
May 15: Cablefax 100
Ad Close: April 13
July 31: Top Ops & Regional Rainmakers
Ad Close: June 28
September 18: Diversity Issue
Ad Close: August 1
December: Most Powerful Women
Ad Close: November 3
---
Get your message to our readers!
To advertise in our special issues, contact:
Ellen Kamhi
[email protected]
(917) 626-5574