The Magazine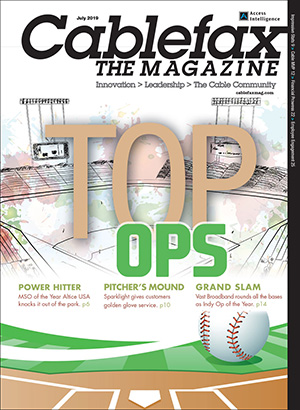 Current Issue: July 2019
Top Ops – 2019
In this issue:
Cablefax's 2019 Top Ops Magazine is tipping its hat to the operators that have hit it out of the park this year including MSO of the Year Altice USA and Independent Operator of the Year Vast Broadband.
With The Independent Show featuring a visit to Wrigley Field, Cablefax embraced the baseball theme with the July cover.
The issue highlights other operators that are scoring big, including Charter for its creative thinking, WOW! for its customer service and RCN/Grande/Wave for continuing to evolve.
This year, three executives retired from the bullpen and Cablefax is honored to recognize them for their Lifetime Achievements: Anne Cowan, Frank Hughes and Paul Glist.
Appropriately released in the seventh month of the year, enjoy reading profiles in the digital issue during our seventh-inning stretch.
View the magazine and event photos at www.CablefaxTopOps.com
Read Digital Issue
The Diversity List
Ad Space Close: August 14, 2019
Release Date: September 16, 2019
Most Powerful Women
Ad Space Close: October 18, 2019
Release Date: November 15, 2019
---
Get your message to our readers!
To advertise in our special issues, contact:
Olivia Murray
omurray@accessintel.com
(301) 354-2010