The Magazine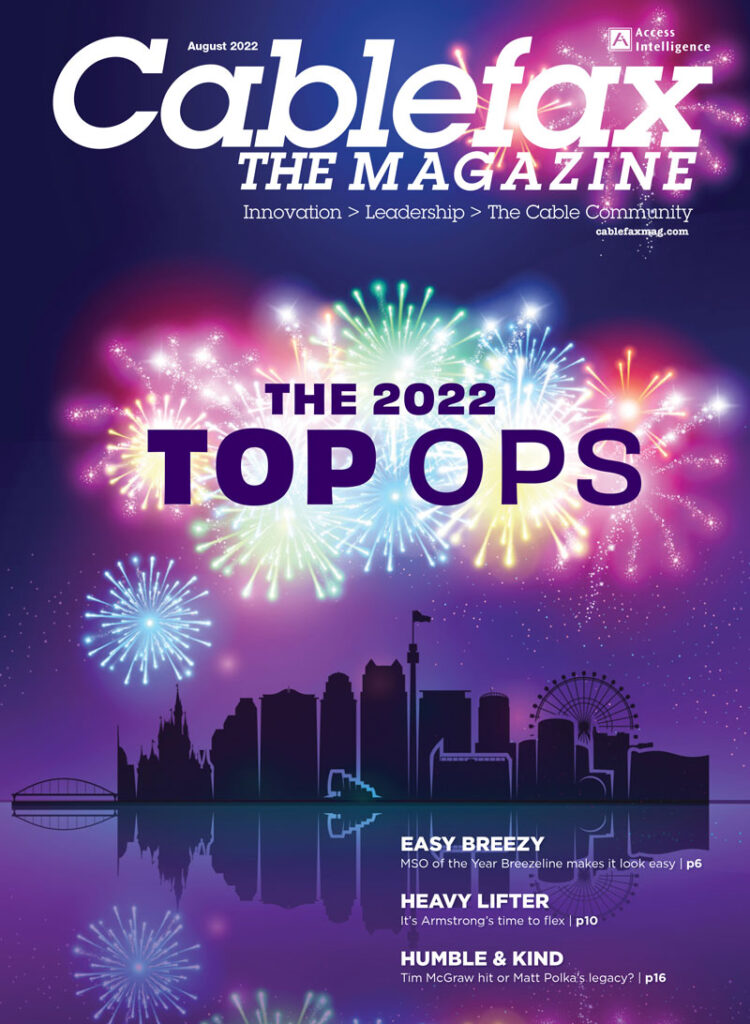 Current Issue: August 2022
Top Ops – 2022
In this issue:
Cablefax is proud to release the 2022 Top Ops Magazine, celebrating the companies and executives who are lighting up the telecommunications landscape.
Congratulations to MSO of the Year, Breezeline, and Independent Operator of the Year, Armstrong Utilities. In this issue, we bestow outgoing ACA Connects President & CEO Matt Polka with our first-ever Founders Circle Award, which is reserved for trailblazers who helped form the broadband and media industry. You'd be hard-pressed to find anyone with a bad thing to say about the association's CEO for the past 20-something years, but you'd find plenty of folks who credit him with making ACAC a leading advocate for small and medium independent operators.
We also use this magazine to introduce our first-ever class of Regional Rainmakers—those often-unsung heroes who are making a difference on a local level.
Check out the digital issue to read about all of Cablefax's Top Ops honorees and Regional Rainmakers. Enjoy and share individual company profiles at www.CablefaxTopOps.com.
Read Digital Issue
Advertise in the 2022 Cablefax Magazine Issues
October 10: The Diversity List
Ad Close: September 9
December 8: Most Powerful Women
Ad Close: November 2
---
Get your message to our readers!
To advertise in our special issues, contact:
Ellen Kamhi
ekamhi@accessintel.com
(917) 626-5574