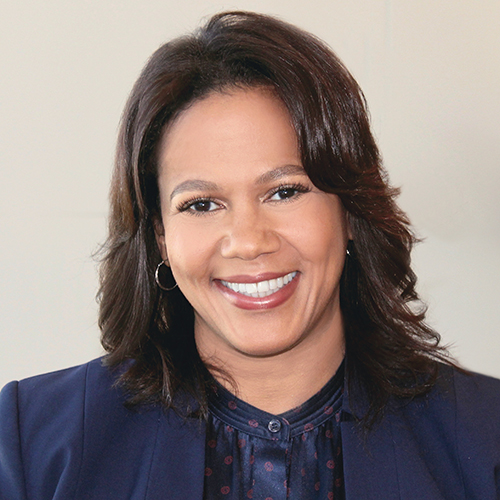 Perry has only accelerated OWN's reach and growth during the coronavirus pandemic, bringing OWN audiences spotlight specials "Where Do We Go From Here?" featuring Oprah Winfrey and a panel of African-American thought leaders. The specials were simulcast on 18 Discovery channels, reaching over 11 million viewers. She also launched OWN's "OWN Your Vote" bipartisan initiative that helped empower Black women to vote in the 2020 election. And don't forget about the holiday cheer spearheaded by Perry, who greenlit the net's first slate of holiday movies targeting African American viewers. She serves on OWN's board, as well as The Paley Center for Media's LA board of governors and The Television Academy Foundation's board.
What is one of your proudest moments or achievements during the pandemic? This year was very unusual. My proudest moments of achievement during the pandemic are undoubtedly tied to my staff. I am delighted how my team was able to adapt and respond to the COVID crisis, as well as the shock and aftermath of George Floyd's death. Both of these events were telling and trying moments within our company. I think that my staff's successful response was aided by an empathy in expression and by an openness in dialog that I and my executive leadership team implored for all. Whether through companywide Zoom townhalls, smaller departmental discussion groups, or via one-on-one chats, it was important for me that my team had the opportunity to talk freely about what they were feeling. This candidness coupled with unwavering support from myself and supervisors allowed staff to determine and execute the appropriate course of action to ensure success in their roles.
How has your leadership style changed during the pandemic? I can't say that my managerial style has changed per se, but I can say that my leadership style has been put to the test. In moments of turmoil and uncertainty it is imperative as a leader to look inward and determine if your manner of leadership is appropriate for the moment. Ultimately, facing COVID-19, economic uncertainties and heightened racial unrest in America, people at all levels of the company responded with enthusiasm and our organization was ultimately able to accomplish some herculean tasks with truly diminished resources.
How can companies best foster an environment of allyship? For me, allyship comes from an open and honest dialog. For any organization, fostering relationships where allies recognize how their power and influence can support and benefit marginalized individuals is difficult to cement. In order to begin this, companies must build forums where people from disparate backgrounds can discuss their experiences in hopes that they can connect and better understand what it means to walk in someone else's shoes.