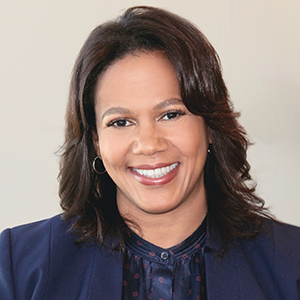 In her first full year as president of OWN, Perry expanded the network's slate with a focus on scripted programming from prominent African American storytellers, including nabbing "David Makes a Man" from Tarrell Alvin McCraney, marking the net's first programming with an Oscar-winning writer. Not to mention the February premiere of "Cherish the Day" from Emmy-winning Ava DuVernay. Perry leads the net's distribution expansion, launching OWN in the Caribbean. During the pandemic, Perry and team quickly organized specials featuring Oprah and others on the deathly impact the virus is having on Black America.
The COVID-19 pandemic forever changed my perspective on…
How to best manage my and my team's workload in and out of the office
Working from home has taught me…
That office comradery is indeed a real thing. Fortunately, technology like Zoom and FaceTime allows for an ease in keeping some of that comradery when out of the office. But I do think there is a healthy balance in being able to physically see and connect with your co-workers while working to solve problems and grow your business. On the flip side, it's sometimes nice to skip away to the kitchen for my favorite snack during the middle of the day.
When restaurants open back up, my first stop will be…
A date night at Nobu in Malibu. My husband and I love good sushi and dining with a view of the Pacific Ocean is really a fantastic atmosphere.
Number of stream subscriptions:
I think I have five paid video streaming subscriptions… Netflix, Amazon Prime, AppleTV+, Spotify, and I just signed up for Quibi to check it out. I also have DIRECTV, so I can also stream loads of network content while on the go.
Last show binged not on your networks:
The last shows I binged (and loved) that were not on OWN were "Zero Zero Zero" on Amazon Prime and "The Last Dance" on ESPN. I watched "Zero Zero Zero" over two evenings and watched "The Last Dance" in two sittings across its initial five week run.
Worst job you ever had?
I can't say that I ever had a "bad" job, but I would say that a job I held in college working at the university "Information Booth" was one of my least favorites. I didn't necessarily mind the interaction with people, but it was very hard for me to sit at this desk for hours upon hours without breaks or being able to walk around.