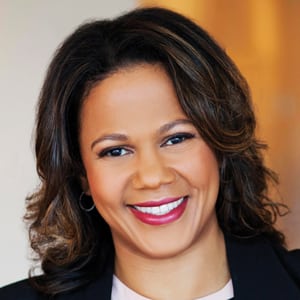 Years in Industry: 15
Education: Stanford; JD, Harvard Law School; MS, Comparative Social Policy, University of Oxford
Motto I Live By: A masterpiece is merely a moment.
Perry makes her first appearance on our list after being named president of OWN in January. Since her appointment, she's spearheaded day-to-day operations and creative areas of the network—including a new romance-themed anthology series "Cherish the Day" from Ava DuVernay—and oversees its growing digital division and its TV Everywhere app.
My prediction for direct-to-consumer video is… I see the D-to-C media industry growing significantly and morphing in ways where consumers have greater content choice, yet distributor still have control over content type and windowing. I know this may seem to be a contradiction, but I think the biggest benefit of a growing D-to-C world is greater flexibility and optionality for both businesses and consumers.
What item in your home or office most "sparks joy" in you? In my office, I must say my fashion-inspired contemporary art collage by the LA-based artist, Fay Ray.
Last show binged not on your networks: "Billions" on Showtime. I just love the fast-paced NYC interactions and the writing and acting is exhilarating.
Last linear content you watched live: NCAA Final Four… I didn't have a horse in the race, but the Nike vs. Under Armour battles were fun.
How do you stay motivated in your job? Surprisingly, motivation is not difficult for me. I must say that I truly enjoy working in (and consuming) media and entertainment, so waking up daily to work in television is more than a privilege.