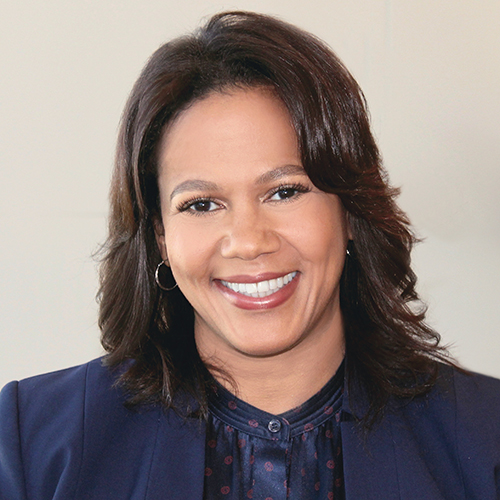 The Why? Perry continues to champion DEI within the ranks of OWN's staff and onscreen. She knows hiring practices demand a broad search for candidates. Perry was instrumental in resurrecting the CBS-canceled drama "All Rise," ordering a third season to premiere on OWN this June, for which she received the See Her Programming Award. The principal cast is female-led, Black and Latinx, with only one Caucasian male in a leading role.
She Says… "The chance to work with Oprah and her brand was so enticing."
First event attended IRL when live reopened? Christone "Kingfish" Ingram Presents 662 Juke Joint Concert at the Apollo in Harlem
Who has kicked down a door for you? The chance to work with Oprah and her brand was so enticing. I don't think I ever thought I would have an opportunity to work with Oprah or her brand, just because it was such a rarified experience. There are not many people who have a brand like hers that's so clean, so defined and that has touched so many. Working for and with Oprah has been bigger than a dream come true for me. One of the greatest notions that Oprah has taught me is the notion of intentionality – what you do, how you talk to people, how you carry yourself "
What makes for a successful Employee Resource Group?
At OWN we place a high level of Importance on culture, and having a culture that people respect and contribute to and that they feel heard in. Our goal is to have all employees thrive in a culture that helps people feel connected to our overall business mission, being in service to our audience.
We put a lot of effort to make sure that employees know the audience really well, resources and tools: Placemats, persona studies, tools, research that is widely accessible to everyone.
Having departments present their information, results and initiatives aligns us all with being connected to that purpose.
Oprah's is at the center of our purpose, and her purpose is to leverage media with audiences in servitude to them. We all lead with that intentionality, it's very clear to us and makes it easier for us to have a north star.
A few programs that I have put in place are "Company Conversations," informal Q&A interviews with speakers of varied genres and backgrounds. Also, we implemented "Hangouts," which are informal environments where the c-suite can connect with all levels of staff. I think it's important to allow employees an opportunity to disconnect and then reconnect with each other in a varied ways. This connectivity helps better cement people with our purpose.