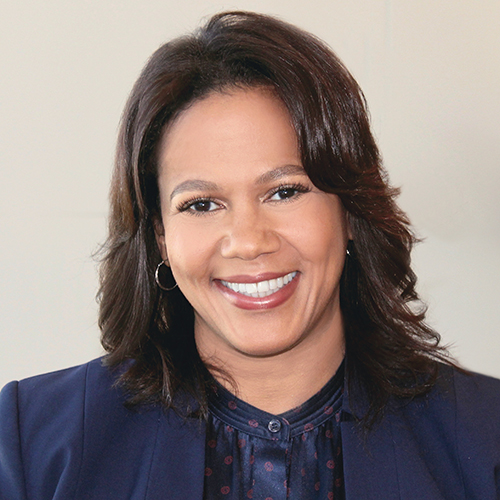 During the past year, Perry's leadership has shaped OWN's ongoing evolution, as the network has expanded its slate and become a leader in scripted programming. Perry oversees OWN standards and practices, international sales, union administration, insurance, participations, scripted and international deliverables, rights management and risk assessment. "When presented with an opportunity," Perry says, "success often comes to those who are thoughtful about what they'd like to achieve and who are diligent in their pursuit."
A February 2018 UCLA study revealed that of the 45 new scripted shows approved for 2017-18 across broadcast, cable and digital platforms, only four were from creators of color, all of whom were black. What is your reaction to this report?
Simply put, I think that our industry does not place enough emphasis on diverse storytelling. Our industry must work harder to not only identify writers and content creators of color, but also to give them opportunities to speak their truth. We don't live in a monolithic society, but unfortunately if you take scripted television at face value it looks as if America is far less diverse than it truly is. I am proud that OWN has championed writers of color through series like "Queen Sugar," "Love Is___," and "David Makes Man." However, we are just one network and my hope is that other linear and digital distributors recognize that there is an intrinsic value in presenting the richness of minority-helmed stories across all ethnicities. People deserve to watch creative, engaging scripted programming developed by and featuring people who look like them and who see the world through their lens.
In what areas should the industry step up its efforts with regard to diversity and inclusion?
The cable industry has been a successful business sector for years. However, there are still aspects relating to diversity and inclusion that should be explored in more depth and, frankly, practiced with more truth. As fantastic as it is to see a spattering of diverse senior vice president, executive vice president and C-suite executives in the industry, we must do a better job of building a pipeline of young men and women who can serve as our industry leaders of tomorrow. I feel that there are now more qualified minority candidates than ever, particularly those leaving well-rounded graduate programs, so it's imperative that our industry identify, hire, train, and properly mentor these candidates within our organizations. I know that our industry would benefit greatly from a more inclusive workforce as it will encourage the diversity of thought that cable media and entertainment needs across business development, creative, finance, marketing, legal, human resources, etc. Our industry touches many Americans and our thought leaders should reflect this customer diversity.
What's your best advice to someone just entering the video content/distribution industry?
The advice I would give someone entering the video content and distribution industry is truly the same advice I would give anyone entering any new business environment. The approach that has been successful for me and that I've seen other admirable executives employ are tied to deeply educating oneself about their sector, being very open to listening to a diversity of opinion, building strong, open relationships with colleagues and industry counterparts alike, and simply working hard. When presented with an opportunity, success often comes to those who are thoughtful about what they'd like to achieve and who are diligent in their pursuit. I also think I'd emphasize patience, as no true career is built overnight. Knowledge, experience and interpersonal networks are established and nurtured over many years. It's a very, very long game.
What's been the most dramatic change in your sector of the business today vs. three years ago?
From my vantage point, the most dramatic shift in our business over the last three years is that we have increasingly gone from a buyer's market to a seller's market. With the significant growth in OTT players and digital first companies there are now more opportunities than ever for content owners to sell their ideas. Further, not only are their more buyers, distributors are also simply buying more content. There is a significant amount of money being spent across linear and digital media. Of course, this increase in sales channels also begs the question of who is pitching ideas, whose ideas are being bought and, ultimately, whose ideas are making it to screens. Unfortunately, as much as we are seeing an enormous increase in the content pipeline, there is a disconnect, as we are not necessarily seeing an increase in the diversity of voices and stories.