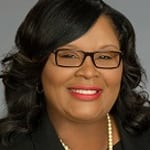 Henderson's skills are called upon when business partners are seeking to increase brand visibility and/or sales of a product, solution or service. She has the ability to quickly evaluate a situation, define capabilities, and implement and manage processes. Henderson donates her time to charitable organizations including Big Brothers Big Sisters, Montgomery County. If she could dine with anyone, it'd be Harriet Tubman because, Henderson wonders, "Did she die satisfied? Did any of the people she helped reach back and help her?"
Who is your favorite current female TV character and why?
Tracey Ellis Ross on "Black-ish." She is a multi-ethnic actress who has a very strong sense of self and brings that to the show. There is the added complexity of raising children of color in an upper class lifestyle, but trying to keep them grounded and socially aware. The show covers diversity holistically, not just from a color perspective.
What industry topic do you think will dominate industry headlines in 2018 and why?
Critical Infrastructure, Enhanced Grounding, Bonding, and EMP Protection. The year 2017 was one of devastating hurricanes, floods and devastating storms that have raised the concern for many of our service provider customers.
What is one way the industry can continue to evolve in ridding itself of gender discrimination?
Be more conscious when building work teams and speakers at events, reviewing the make-up of the board of directors, and considering new employees to diversify their pool of candidates. Don't think of it as charity, think of it as standard business practices. Tie performance reviews and/or bonuses to the metric of diversified high performance teams.
What famous woman, living or deceased, would you like to have dinner with?
Harriet Tubman. To find out how she planned, influenced people to support her cause, found the resilience, strength and love of mankind to put her life in jeopardy to lead so many people to freedom. What was her motivation? Did she die satisfied? Did any of the people she helped, reach back and help her? Pay it forward?
Best advice for relieving stress?
FOOTBALL!