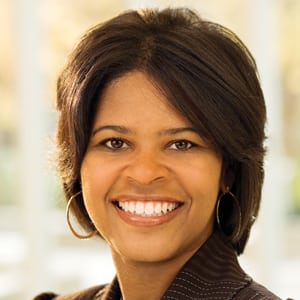 As well as advising across the company, Williams-Fauntroy specifically supports the TLC network, and is the co-lead as in-house production and deal counsel on the network's hit "90 Day Fiancé" series and its growing number of spinoffs. She recently lent her deal-making expertise to the company's critical and extensive partnership with Hulu, securing a major carriage agreement for the company's suite of brands, and oversaw the business and legal work around Discovery Channel's Shark Week. "Companies must be purposeful and proactive if they want to support the positive growth of women in the industry," she says.
What specifically does your company do to support and elevate the women who work there?
Discovery continues to support women through a number of efforts including our mentoring programs as well as our employee resource groups. Our Women's Leadership Network is a group that gives women the ability to gather and discuss common issues; the ability to do that fosters a more collaborative workplace. Additionally, often our mentoring program, Mentornet, matches younger career women with more senior female career executives; that intentional placement (the mentor matching) is important as younger women navigate the corporate world. And we can never deny the power of what we can see—leading by example, we have a number of senior leaders who are women and seeing them at the helm is always an inspiration.
How can the industry do a better job of recruiting women and ensuring they have a path to senior positions?
Companies must be purposeful and proactive if they want to support the positive growth of women in the industry. It is critical for each of us to widen our circle for recruiting and make targeted efforts to interview and hire women candidates. Additionally, inside the company, leaders should identify "rising stars" and support women employees with access to mentors, learning and development opportunities and "stretch" assignments. Furthermore, giving women a chance to participate in industry leadership sessions helps to develop the employee both inside and outside of the office. Partnerships with organizations such as WICT and NAMIC allow for such continued growth and opportunities for women employees. A challenge for each leader should be to identify an employee who may not have normally had a seat at the table and bring that co-worker into the room so she can immerse herself in the real time substantive work. Finally, companies should look at their departments and see whether they are unrepresented for women and if yes, then take the next step to meaningfully diversify the team.
Which current shows best reflects the kind of women's roles you like to see and why?
I love the character "Bow" on Black-ish. She's a career woman managing home and work who is funny and smart and who shows her vulnerable side in many moments. And of course I love shows with powerful and smart female lawyers!