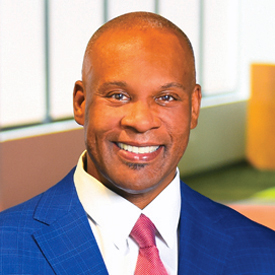 The Why? As the leader of 20,000-plus employees in Comcast's West Division, Jennings continuously challenges the company to look at diversity, equity and inclusion through the lens of truth and reality, asking tough questions and embracing tough answers. That same drive has propelled meaningful work at Comcast West, which launched hundreds of Lift Zones, community centers that have been turned into WiFi-enabled learning centers for students and continues to expand Internet Essentials to provide affordable internet service.
He Says… "Listen. Listen with the express intent to have your mind and viewpoint challenged, or even changed."
How can leadership best support DEI? Treat it with the same level of intensity, rigor and scrutiny that you approach your most critical operating metric so that ultimately, it is.
Book I wish everyone would read: "Think Again" – Adam Grant
Advice for productive conversation about race in the workplace: Listen. Listen with the express intent to have your mind and viewpoint challenged, or even changed. Be open and transparent and start from the foundational truth that, "we are all human."