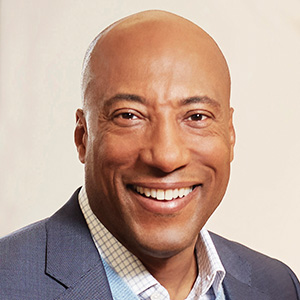 Years in Industry: 40+
Education: USC Film School
Independent networks always struggle to gain distribution, but Allen and Arouh have worked tirelessly to bring the nine Entertainment Studios Networks and streaming service Local Now to more viewers than ever before. 2020 proved to be a pivotal year with ESN finally gaining carriage on Comcast and the two dropping their ongoing litigation. In addition to launching ESN's Comedy.TV, Recipe.TV and JusticeCentral.TV, the Comcast deal included renewals for Weather Channel and 14 broadcast stations owned by Allen. This duo is on a roll, having negotiated the return of Weather to Verizon Fios last year after a four-year absence.
The COVID-19 pandemic forever changed my perspective on:
How one can never be too prepared for catastrophic events.
Without sports on TV, I have:
More time to read.
The first thing I'll do when I'm back in the office is:
Wash my hands.
My prediction for AVODs is:
Global domination.
Working from home has taught me:
I can get a lot more done.
Best TV commercial you've seen recently?
Commercials for the free streaming service Local Now.