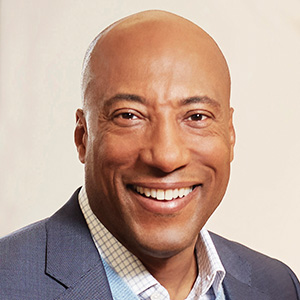 It's been another landmark year for Allen and Entertainment Studios Networks across all platforms—cable, broadcast syndication, motion picture theatrical distribution and digital distribution. Leading this year's accomplishments was the $300 million purchase of The Weather Channel, bringing ESN's cable network portfolio to eight and significantly raising Allen's profile (along with his rank in this magazine). His content empire continues to grow, too. Season 2 of his comedy game show "Funny You Should Ask" is in production for another 140 half-hour episodes. And, Allen raised more than $1.5 million for Children's Hospital LA through his second annual Oscar Gala.
A February 2018 UCLA study revealed that of the 45 new scripted shows approved for 2017-18 across broadcast, cable and digital platforms, only four were from creators of color, all of whom were black. What is your reaction to this report?
It is simply smart business to increase the creative diversity pool. Because of all the content platforms, diverse creators will continue to emerge. And thank you, Shonda Rhimes, for kicking the door open.
What's a recent example of a step forward for diversity in the industry?
Our company recently achieved two historic events by purchasing The Weather Channel: 1) the largest general market, widely-distributed cable network owned by an African-American and 2) the first 24-hour news network owned by an African-American.
In what areas should the industry step up its efforts with regard to diversity and inclusion?
Finance, ownership, and distribution.
What's your best advice to someone just entering the video content/distribution industry?
Study the best.
What's been the most dramatic change in your sector of the business today vs. three years ago?
Because of emerging platforms and technology, traditional media has been forced to think differently and adapt.
If there were a reality show based on your office, what would it be called?
"Creative & Unstoppable"