What is the Multiscreen Summit?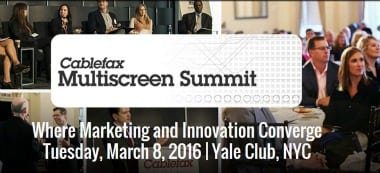 With Cablefax's first-ever Multiscreen Summit coming up March 8 in New York City, the staff chatted with Publisher Michael Grebb to get a better feel for what this event is and who should attend.
Why "multiscreen" as a theme this year?
We thought a long time about how to frame our March conference. Should it be narrowly focused? Or broad in scope? Do we pick a "hot topic" and break it down into its most granular parts—or throw everything but the kitchen sink into the discussion. In the end, we looked at the marketplace and determined that the TV ecosystem has become a vast web of content, tied together by one thing: Screens.
Whether it's your TV, your smartphone, your tablet, your Virtual Reality headset or even that something blaring at you from a monitor as you gas up your car—it's all about content across screens. And from that, the next question becomes "How does the industry aggregate and monetize those eyeballs into a business that not only preserves the financial benefits of the old system, but also grows it into an even bigger business?"
With measurement finally reaching across devices and consumers settling into more stable behavioral patterns, it's the perfect time to get the best minds together to talk about how to take it to the next level.
What kind of exec would most benefit from the program?
Certainly marketing, strategy and business development execs are the sweet spot here, but we designed the Multiscreen Summit to appeal to all senior and mid-level executives who want to get an edge.
For some, that's an external edge that could help their company win business versus a competitor. But you know, for others it's also about self-preservation within their own companies. Layoffs and reorgs are rampant in this industry, and that's only going to intensify in the coming months and years as the disruptions continue. When the top brass takes a serious look at all of their departments and personnel, they're going to keep and promote the people who have the best handle on this wacky, ever-changing, seemingly unpredictable TV ecosystem. Anyone who is mired in the past or trying to hide on their little island of comfort is, quite frankly, toast. Companies can't afford to keep them around anymore. Consumers are too fickle. And the competitive environment is too cut-throat.
The Netflixes of the world don't tolerate employees who aren't willing to learn and grow. And increasingly traditional media companies aren't either. I'm not trying to be alarmist, but even pulling one or two key takeaways from a conference like this can make a huge difference in someone's career. This is the most disruptive period in the history of this business. And this is no time to curl up in a ball and hope for the best. Rather, it's time to learn and grow and take action. So that's our goal: To give attendees an edge that will make them invaluable to their employers, clients and customers.
How is the Multiscreen Summit different from other conferences?
One big difference is that our conferences move fast. We know how busy everyone is, and we don't waste anyone's valuable time—so our sessions are short, to the point and focused like lasers on ensuring the speakers come with best practices and key takeaways.
We also make things interactive. We encourage audience participation, and one session will even create teams to take on a multiscreen marketing and business strategy challenge. Judges will pick a winner as all the teams share their ideas. It's interactive. It's fun. And we think everyone will draw big takeaways from that, so we're excited.
I personally can't wait to hear what Needham & Co's Laura Martin unveils at her opening keynote. She plans to come armed with some mind-blowing research about the economics of content, and I really think she's going to get people talking and set the tone for the whole day. Right after that, we'll launch into an incredible session in which Comcast's Peter Nush will talk about the latest innovations around X1, Time Warner Cable's Alix Cottrell will give us a sense of TWC's incredible turnaround with its video product, TV One's Lori Hall will go over the net's rebrand and how it all connects to the multiscreen world.
I could go on and on. I mean, when rEvXP's Dan Ciccone really breaks down competitive gaming content, or "e-sports," and demonstrates its massive potential, lightbulbs will go off throughout the ballroom. I have a feeling he's going to run out of business cards. And I'll be shocked if our wrap-up panel on social screens doesn't give every marketer and strategist in the room an entirely new way to look at social media as it relates to multiscreen content. People are doing great work out there.
Overall, how would you rate the TV industry's reaction to all this change?
If you consider the sea change that has occurred over the last three to five years—the emergence of OTT players, the radical shift in consumer behavior, the almost-overnight explosion of devices and wireless broadband networks able to support a premium video experience—it's simply inaccurate to say that the traditional media companies have dropped the ball. Did they move fast enough in the beginning? Probably not, but they're making up for it now. And if you look at the disastrous way the music industry dealt with digital disruption, suing grandmothers and sticking their heads in the sand, the TV industry's doing great.
Consider that the "record business" is a third of the size it was before Napster and iTunes. A third! That's insane. But because the TV industry implemented VOD, DVRs, TV Everywhere and now even OTT options and kept moderate pace with the disruptions, it's now poised to actually grow the market, not shrink it. Of course, those are high expectations to meet. And even executives who used to coast on their experience will, uh… face the music if they don't innovate and stay on top of every trend big and small. The industry might have a better handle on the disruption than two years ago, but it's still an unpredictable storm out there. And consumers could shift on a dime at any moment. It's why we think events like the Multiscreen Summit are so important. They help executives connect trends, see through the noise and ultimately develop better strategies for success.
Check out more details about Cablefax's Multiscreen Summit  as well as registration here.
Multiscreen Summit Related Articles: