Cablefax Honors Under 30 Industry Stars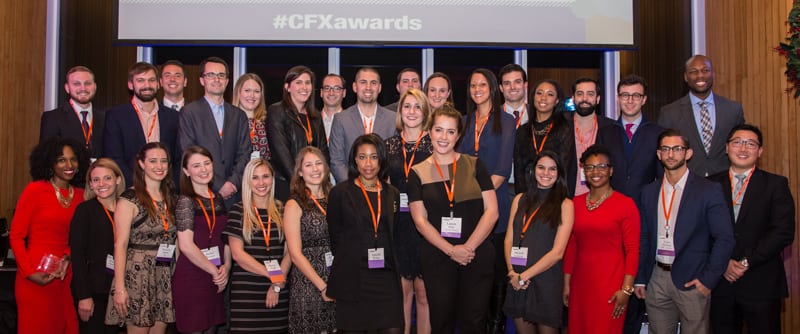 Cablefax recognized its Overachievers Under 30 Wednesday night at a reception filled with mentors, good food and beautiful views from The Standard in NYC, right on the High Line. The night's honorees—all industry execs who are rising stars under the age of 30—offered up some of the best and worst advice they've received.
"If every pork chop was perfect, we wouldn't have hot dogs," quipped Viamedia's Adam Lynch, describing how he's learned over the years not to get bogged down in seeking perfection.
TV One business & legal affairs manager Whitney Marshall talked about seeking out areas at work that need help. It's something she said she's excited to do because she loves working in TV. Several honorees spoke about how fortunate they feel to work in such a vibrant and fun industry. Along those lines, TLC publicist Danielle Matlin said the best advice she has is to remember that her job is "PR not ER." "It's television, not heart surgery," she said. (As part of the Under 30 set, she's probably too young to remember TLC's days showing various surgeries under its former brand "The Learning Channel"!).
Other advice from the night included a nugget from Layer3 TV CMO Eric Kuhn's father, who told him to always stay one step ahead of the curve. Kuhn went to college with plans of becoming a journalist, but saw the pains the industry was facing and dove into social media at a time when few were pursuing the space. "It seems to work as I've always had a job," he said.
When it comes to worst advice ever received, Discovery's Miles Aghajanian told of a time at a previous job when he wore socks to work with dinosaurs on them. A senior member of the company told him that it wasn't very professional. Now, he works as a manager for Destination America and American Heroes Channel at Discovery Communications, which has a huge T-Rex in its lobby. Just goes to show that was bad advice as those socks fit right in now, he said, raising his pants leg to give the crowd a peek at his fashion-forward footwear.
The evening featured a bevy of raffle prizes, including a Merge VR headset and tickets to The Lustgarten Foundation's annual Rock & Roll holiday bash. Shout out to HSN for providing several raffle items, including Fitbit Altas and Lancôme La Nuit Trésor L'eau de Parfum. Check out photos from the event in our Facebook album.