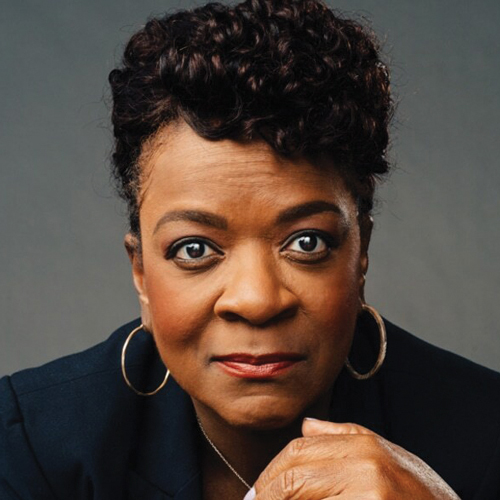 If you want to understand Miley's impact, just take a look at some of the people who call her a mentor: MSNBC President Rashida Jones, Telemundo station GM Jose Suarez, NBC News/MSNBC broadcaster Craig Melvin. And the list goes on.
She's worked for NBC for 31 years, cultivating many mentorships over that time. She also helps others connect through weekly DEI internal coffee chats for NBCU News Group employees. "Sometimes the most valuable mentorship happens alongside your own colleagues. Most of the people I've been in the trenches with, in control rooms with, and working across long hours with stick with me and serve as mentors to me as much as I serve as a mentor to them," Miley says.
The past year has seen Miley achieve some major DEI milestone for the group as she broadened the scope of its talent pool. In 2021, she led the creation and launch of NBCU Academy, a multi-platform journalism training and development program partnered with 17 universities, community colleges and institutions to provide scholarships, education, on-campus training, online programming, funding for accredited journalism programs and access to world-class journalists from NBC News, MSNBC, CNBC and Telemundo. This year, she oversaw the significant expansion of its reach to 30 schools.
Miley's journalism accolades are too long to list, but include three Emmy Awards, 10 Edward R. Murrow Awards and Society of Professional Journalists Award for her role during coverage of the Marathon Bombing in Boston. She made the switch to the newly formed DEI team when Cesar Conde became chairman of NBCU News Group. "It was scary to leave the day-to-day of editorial. That was my comfort zone, but I realize that this role is bigger than me. This is beyond me. I have to answer the call and I'm going to do my absolute best," she says.
She began her new role shortly after the start of the COVID-19 pandemic. When American saw an increase in violence against AAPI individuals, Miley challenged the News Group to act before many other organizations did. She continues to work closely with corporate partners across NBCUniversal to come up with solutions to help AAPI colleagues feel safe and to dedicate air-time to reporting on the continued acts of hate for this community and others.
In 2020, Conde set the "Fifty Percent Challenge"—a goal to have 50% of staffers be women and 50% of the total workforce be people of color. Miley said she's never experienced an articulated mission as ambitious as this initiative. "The time that we are living in calls us to be bold in our ambitions, to make a statement and to call them out. This boldness invites criticism, but also collaboration," she says. "For me personally, I find that it's a reminder that progress, however you define it, is more than a numerical outcome. Progress is shown in how you feel about where you work and the people around you. The metrics are one measurement and it hits me hard that I work at a place that is not afraid to make bold commitments to change the industry."