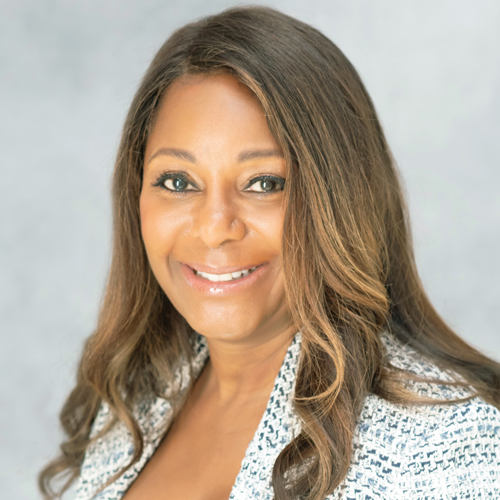 The Why? Anderson volunteers her time to community service organizations that foster diversity, equity and inclusion of African-American women, and she's a member of the Inclusion, Diversity, Equity and Access (IDEA) Task Force for her local Junior League chapter. Dedicating herself to helping build synergies and strength through shared experiences, Anderson works to develop, empower and support diversity among female leaders at Mediacom and to identify members of historically underrepresented populations to serve on corporate boards and in community leadership positions.
She says… "Unquestionably, Rocco Commisso has been the most influential and dominant force in my career. Rocco understands what it means to be an 'other' and acknowledges that doors do not open as readily for some, in spite of their qualifications."
Coworkers describe me as… I was recently nominated for the highest achievement award bestowed by one of the civic organizations to which I belong. As part of the application process, I was honored to receive the endorsement of several coworkers. I am humbled by their kind words:
"Victoria is the kind of lawyer that other lawyers go to for advice. She is exceptionally smart, extremely thorough and a tremendous advocate for her clients. She has proven to be an incredibly effective negotiator all while displaying a friendly and approachable demeanor. We are extremely lucky to have a person with Victoria's talent and skill on our team."
I have known Victoria for more than five years and worked with her on a high stakes legal case whose outcome would shape an entire industry. It was an intense, high-pressure effort in which I got to know her… The excellence that Victoria brought to the table every day was extraordinary… Victoria has a deft touch in working with people and keeping a team of diverse personalities happy and focused. She makes people truly glad to work with her, and to know her. Besides her positive outlook, she is as smart as anyone and is great at cutting to the core of what's important. Victoria is a rare talent.
"I have known Victoria since she joined Mediacom Communications Corporation over six years ago… From the outset, she demonstrated everything that you could wish for in a lawyer: diligence, imagination, a strong ethical sense. She has expanded her portfolio of responsibility over the years, always taking on new areas to develop expertise and enhance her organizational value to Mediacom. And heck, she is a hell of a nice person too…"
"smart, decisive, charming, and tough. Victoria is both supporting and demanding… she is a go-to person when hard decisions have to be made"
"I have had the privilege and pleasure of working with Victoria for several years and together we have delivered beyond the objectives set by our organization. Victoria is an extremely knowledgeable, driven, and enthusiastic executive in search of excellence. Victoria is also a visionary, practical, and unstoppable force."
Who has kicked down a door for you? Unquestionably, Rocco Commisso has been the most influential and dominant force in my career. Rocco understands what it means to be an "other" and acknowledges that doors do not open as readily for some, in spite of their qualifications. Rocco seeks to provide opportunities for employees to demonstrate their skills, intelligence and commitment to excellence – and allows them to sink or swim on their own. By inviting me to serve as the only woman on the team of Mediacom executives charged with structuring the €170 million acquisition of ACF Fiorentina, Rocco gave me an opportunity to prove myself. I continue to work with ACF Fiorentina on matters ranging from Mediacom's sponsorship of the team, management of the teams US intellectual property and the name, image and likeness rights of its players, and on the construction of Viola Park, which is anticipated to open in Spring 2023 as the largest sports facility in Italy. Prior to my work with ACF Fiorentina, Rocco appointed me as Counsel to the Chairman of the North American Soccer League (NASL), offering me the opportunity to expand my practice to include antitrust litigation and work alongside the preeminent sports attorney in the country. Most recently, through the New York Cosmos' general manager, I was appointed as an Alternate to the Board of Governors of the National Independent Soccer Association (NISA). As a woman fortunate to make an imprint in the male-dominated world of professional sports, I owe my opportunities and my success to Rocco Commisso.
An organization I'm proud to support: It was an honor to be invited to join the membership of two historic women's organizations renowned for their commitment to volunteerism and community service: The Junior League and The Links, Incorporated. I am quite proud to be an active member of both of these organizations. The Junior League and is one of the oldest, largest, and most effective women's volunteer organizations in the world. With more than 125,000 members, the organization stands at the forefront of providing civic leadership training for women, so that they are best positioned to serve on non-profit boards and lend their talents as leaders and catalysts for change in the in the communities they serve. I am proud to be a member of the Inclusion, Diversity, Equity and Access (IDEA) Task Force for my local League. Our mission is to ensure that our training and local programs reflect the national organization's commitment to diversity, equity and inclusion, as well as support, highlight and celebrate the The Junior League's diverse and unique membership. This past spring, we rolled out an implicit bias survey whose results, while not at an optimal level, were nonetheless very encouraging. This led the League to create a new DEI position on the Board of Directors. The Links, Inc. is also one of the nation's oldest and largest volunteer service organizations comprised of over 17,000 professional women of African descent who contribute more than 1 million documented hours of community service annually. Initially a member of the Beverly Hills West (CA) Chapter, I am proud to have rejoined the organization as a member of the Central New Jersey (NJ) Chapter. I am most proud of my work on a recent community service project with Trenton, NJ's HomeWorks After-School Residential Program, a free, weekday, after-school residential program for marginalized high school girls offered in conjunction with The Lawrenceville School. While 87% of boarding school graduates report being ready for college, only 39% of seniors attending Trenton public schools make the same claim. HomeWorks strives to supplement the public school education with academic enrichment, identity-driven leadership, mentoring, targeting programming and exposure that might otherwise be unattainable to these young women.