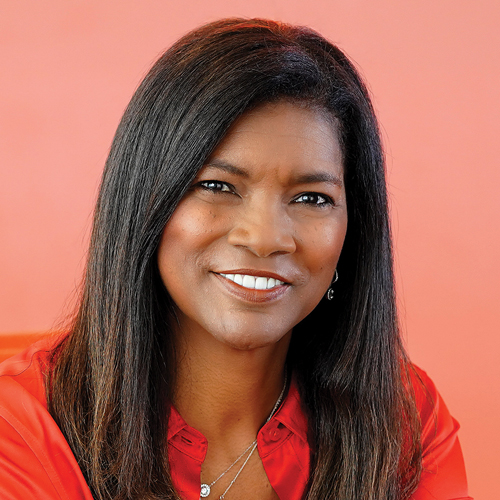 Whether she's advising high school students or establishing new company-wide initiatives to help employees advance their careers, Cornileus is a lifelong mentor—which, she says, also makes her a lifelong learner.
"I have been fortunate to have many mentors over my career, and each one has taught me different things," she says. "I've had mentors who pushed me to take growth roles out of my comfort zone, mentors who elevated my business acumen, mentors who helped me interpersonally and who helped me gain confidence to be my authentic self and make career decisions aligned to my values."
One of the many ESPNers she has supported over the years is Rosalyn Durant, who in 2020 became the first African American woman to serve as SVP, Operations for Disney Springs, ESPN Wide World of Sports, and Disney's Blizzard Beach and Typhoon Lagoon Water Parks. "Dr. Tonya has been a friend and mentor to me for several years. Coaching and lifting others is more than work or academic for her, it's a special calling that she has answered," says Durant. "She's the honest voice that you need to hear and the committed sponsor that we all wish for."
Heidi Justice, Senior Manager of Enterprise Talent Acquisition for Disney, sought out Cornileus as a mentor because of her reputation for leading with a balanced approach to work and personal life. "Tonya has specifically helped me to set boundaries in work and to create a new way of working that works for all of who I am," says Justice.
Armed with a true appreciation of the importance of mentorship, Cornileus oversees a number of new initiatives at ESPN and acts as an adviser to senior management on DEI. Under her guidance, ESPN established the "MORE Program," a one-year initiative that aims to increase mentorship, opportunity, readiness and exposure for a diverse cohort of next-generation leaders.
She also helped launch the "NEXT Program," an 18-month initiative that exposes production assistants to different areas of content. The most recent cohort features 64% people of color. And Cornileus helps link senior Black ESPN leaders with emerging/mid-level Black leaders for informal and formal mentorship.
Cornileus firmly believes diverse and inclusive teams perform better. To improve ESPN's DEI, Cornileus and her team have examined talent practices to mitigate bias and increase inclusion, implemented leadership development programs to build leaders' DEI capabilities and engaged with the company's nine employee resource groups. "These efforts and results enable ESPN to create a place where our employees can bring their authentic selves to work and thrive, and where we can serve our sports fans with relevant and inclusive content," she says.
Cornileus' dedication doesn't end when she walks out of the office. She mentors high school and college students along with early and mid-career professionals. "Sharing my expertise and wisdom to help someone else achieve their goals and dreams is fulfilling. I'm an ear to listen and a coach and advisor—whatever they need in the moment," she says. "Invariably, I gain just as much from the mentoring relationship as my mentees. I'm a better person, a better listener and a more compassionate and inclusive leader because I mentor others."