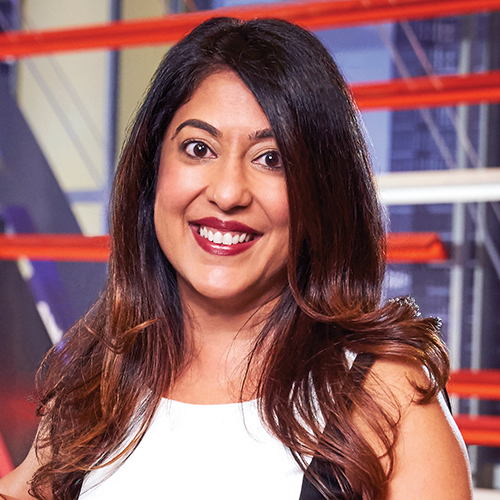 Shah had to navigate a year largely absent of live sports, but still managed to drive the success of two of the biggest events of the year. The NBA All-Star Game (before the pandemic) jumped 15% in viewership, averaging 7.3 million viewers. And if you tuned into "The Match: Champions for Charity," between Tiger Woods, Phil Mickelson, Tom Brady and Peyton Manning, you have Shah to thank for what became cable's most-watched golf telecast of all time. She's also the executive sponsor of the Turner Sports Women Network and serves on the board of the Atlanta Women's Foundation. "For me, it's about cultivating diverse voices through programs that offer different things for different people, for all people, that best embrace diversity," she says.
The conversation about racial injustice in 2020 has been… long overdue and one that brings long-term systemic change.
In what ways can companies best show a sincere commitment to diversity and inclusion?
I believe companies show sincere commitment when they are transparent, accountable and follow through with meaningful initiatives that can be sustained over time. It's important to have a clear set of goals that can be applied across all functions and the discipline to hold yourself and your teams accountable for reaching them. Creating space in your organization for follow through is critical — it's where intention meets action.
What initiatives in our industry best embrace diversity?
For me, it's about cultivating diverse voices through programs that offer different things for different people, for all people, that best embrace diversity. Of course, organizations such as NABJ, NAHJ and AAJA, among others, are critical to both diversity representation and cultural awareness for media companies. But I believe 1:1 mentorships and affinity groups are some of the most powerful initiatives that help organizations elevate minorities and provide support for those underrepresented groups, and they have personally helped me. These help to develop people and connect them to others in the industry, giving them opportunities to be thought leaders, share their stories and inspire others.
What are some of the tough conversations this industry needs to have?
It's my view that we need to make room for tough conversations on racism, injustice and discrimination through the point of view of minorities including Black people, people of color and women, among others. Issues range from xenophobia as is perpetuated by current events leading to an increase in discrimination of Asian Americans due to COVID-19, to police brutality against Blacks and people of color and, sadly, many other issues impacting every other minority group. It needs to be a concerted effort to push the tough conversations no matter where we sit on the spectrum or our background.
At Turner Sports, we've taken steps to address these topics I mention across the entire organization. We have pushed to have these uncomfortable conversations that haven't traditionally taken place in the workplace. I know we can still be better and I'm very proud of the framework and action plan we've established to help drive continuous change.
How have you been a champion of diversity & inclusion in your professional life?
I serve as the executive sponsor of the Turner Sports Women Network, which helps develop women and informs other employees how to be good allies. I've also participated in mentoring programs within Turner Sports and my alma mater, Emory University.
I'm currently on the Board of the Atlanta Women's Foundation which provides funding, resources and support to help low-income women and girls break the cycle of poverty.
I've previously taught at the University of Georgia School of Law. This was particularly important to me because I saw first-hand the difference in participation of women in my class versus my co-professor who was a white male. Women were more active in my class and I wanted to play my part in breaking down barriers.
Which current shows (on linear and streaming) best embrace diversity?
From our Turner Sports catalogue, "The Arena" is an exceptional and thought-provoking show on topics that take place on and off the court. It's a platform for those tough conversations to be had, including the pandemic, Black Lives Matter, systemic racial injustices and the changing landscape of society through the point of view of players, NBA teams, their fans and communities. This show, along with Inside the NBA and our other programming, draws from diverse voices and we strive to always incorporate and amplify diversity in thought in all forms of content.
One of my personal favorites is Mindy Kaling's new show "Never Have I Ever." It's a coming-of-age comedy about an Indian American girl, which is so familiar to me and yet adapted to the present-day nuances and societies. No matter how old or how successful you are, you can't underestimate the power of seeing people that look like you and share your experiences.