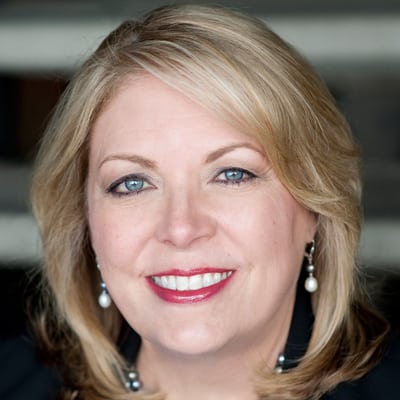 Elder has been at WOW! for only 11 months, but what an 11 months it has been. Within her first 30 days, she steered the company toward a new strategic direction, established a new company mission, refreshed its core values and brought in new leaders. Since the implementation of those changes, the company stock price jumped nearly 30% and all scores in the 11 areas OfficeVibe measures have risen. When she says a reality show based on her office should be called "The WOW! Factor," she's not kidding. A woman she admires is WOW!'s first CEO Colleen Abdoulah. "I see the impact of her legacy every day. She inspires me through her passion for people and customers," she says.
What are your thoughts on the industry's current response to the #MeToo movement, and its treatment of men who have been accused of sexual harassing and/or assaulting women and men? Are there other steps you feel should be taken?
There is no place for sexual assault or sexual harassment in our lives for men or women, particularly in the workplace. It is well-established that women are much more likely to be subjected to abusive and demeaning behavior. Historically, we know that when women report an incident, they are less likely to be heard. Until recently, there was little understanding of the long-term impacts to women who have had to work in abusive or hostile work environments. Now we are asking more questions and starting to conduct more research.
Do you see any potential backlash to the #MeToo/Time's Up movements?
There is always potential for backlash when the powerful remain unchecked. Backlash typically is a way for those who feel challenged by a shift in thinking to regain ground and reclaim their position of power. I think women have found their collective voice and will not allow progress toward reclaiming their power to be taken away from them again.
What's a recent example of a step forward for women in the media industry?
Women are making huge contributions to the media industry and to all segments of business. But the fact that we still speak in terms of continually making incremental steps forward tells me women have a long way to go in being accepted as equals and as obvious contributors to any industry.
Who is an inspirational woman you admire, and why?
I admire, WOW!'s first CEO [Colleen Abdoulah]. While she has been out of the CEO suite here at WOW! for nearly five years, I see the impact of her legacy every day. She inspires me through her passion for people and customers. WOW! has a reputation for "living up to our name" and WOW'ing our customers every time. Colleen created this culture, which lives on. My team and I are building on the great work of those before us to create the latest version of WOW! that takes the best of elements of our legacy of best of industry customer experiences along with a focus on growth for the future.
What's been the most dramatic change in your sector of the business today vs. three years ago?
The most dramatic change in our sector has been the increased penetration of broadband and the increased availability of higher speeds of broadband. This gives customers speeds for streaming and robust applications along with the proliferation of IOT. WOW! is at the center of our customers' homes for all of their rapidly advancing broadband needs.
If there were a reality show based on your office, what would it be called?
"The WOW! Factor"