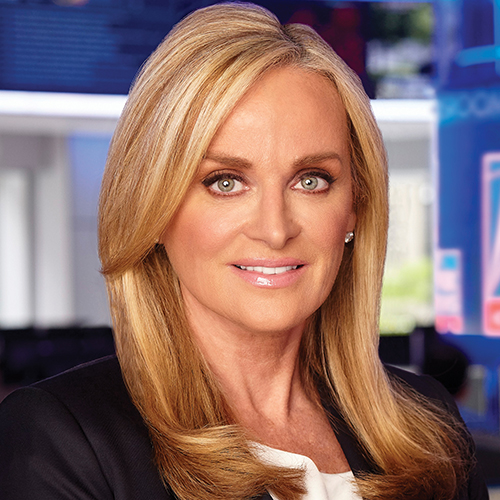 Years in Media & Broadband: 27
Education: BA, American University
My personal superpower is: Dog Whisperer
What show/movie hasn't been rebooted that you wish would be? "Happy Days" — the world needs more joy and cool people like the Fonz!
What's the future of direct-to-consumer streaming look like? I think the pandemic really accelerated the move to a direct-to-consumer marketplace. With a lack of entertainment programming, viewership trends outside of news moved quickly to streaming platforms. We saw this directly via increased engagement on FOX Nation. These audience trends led us to further expand our brand into more DTC facing businesses including the FOX News International (SVOD) and FOX Weather (AVOD).
My comfort TV binge? "In the Valley of Sin" on FOX Nation, a true and horrifying story, and I loved watching "QB1" on Netflix with my daughter.
What are you most looking forward to this summer? Sunshine, fresh air and a visit with my nephew who is a Corporal in the Marine Corps. We have only seen him once in the last year due to the pandemic. He's an extraordinary young man who has persevered through heartbreak and the loss of both of his parents (including my brother) at a young age. And yet, he is dedicated to his service to our country, has an incredible work ethic and is determined to make a great life for himself.
My proudest professional achievement over the past 12 months is: Reflecting on the past 12 months, I have to say I am immensely proud of how all of FOX News Media came together in the face of adversity. Right at the outset of the pandemic, we moved strategically and efficiently – setting up more than 42 remote studios across the country and enhancing our news lineup to ensure our viewers remained up to date on the quickly evolving news cycle. And while working around the clock, we placed an emphasis on finding ways to give back to our communities along with our first responders – creating new platforms and initiatives like our "America Together" series. As part of the series, we donated more than $1 million to Feeding America and placed a national spotlight on the incredibly brave teams helping to protect our communities. We closed out 2020 on an optimistic note, delivering our best-performing year in history and this past January, reached a new milestone of 19 consecutive years at number one in cable news. Throughout the process, we listened to our audience, and made changes depending on their needs – which also brought the launch of two new platforms – FOX News Books and FOX News International and the addition of a new late-night comedy program "Gutfeld!," which is already beating "The Tonight Show" and other broadcast competition. Last December, we also announced our third streaming platform, FOX Weather, which is AVOD and slated to debut later in the 3rd quarter. While 2020 was an extremely difficult year, it was also transformative and I look back over the past 12 months in awe of our teamwork, innovation and multiplatform success.
Last podcast listened to: "Fox News Rundown"