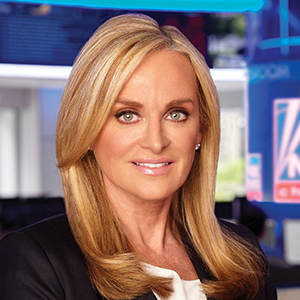 Years in Industry: 26
Education: B.A., American University
Fox News's first female leader has maintained the success of the channel and pushed it to new heights, all while mentoring the next generation. Under her leadership, Fox News Channel celebrated its 18th consecutive year as the most-watched cable news network. The network beat the milestone in January, when it averaged 1.7 million total day viewers. And now that 2020 is well underway, so too is the execution of Scott's plans related to the coverage of the upcoming November election. Her influence has been noticed beyond the hallways of Fox. She was named the Police Athletic League's Woman of the Year in 2019. The award honors women who have attained the ultimate distinction in their careers and personify the essence of New York City and the country.
The COVID-19 pandemic forever changed my perspective on:
The unity and service of all Americans. There is so much talk of politics dividing Americans. This pandemic is a great reminder that the American people came together in an organized way.
How has the pandemic shaped the industry's future?
We are living through a transformational time. Our industry will be permanently changed. Workflow was the first to change with the seamless adaption of teleworking. Our industry is fully tapping into the technical capabilities allowing for new ways to broadcast, edit and produce live, long form and digital content. Our corporate footprint may never be the same. We are learning from this extraordinary time and the outcome will not only be a new way of working but also a deeper understanding of how consumption habits are continuing to evolve.
The first thing I'll do when I'm back in the office is…
I never left the office and have been working every day at our headquarters in New York since the start of the pandemic in March. We have an essential team of employees who came into the office every day since early March and it was important to me to be in the building with them during this time. I'm extremely thankful to them and to all of our employees who shifted so seamlessly to working from home.
Best TV commercial you've seen recently?
I love all the PSA's I've seen across various businesses and industries. From the social distancing reminders to stay home to the simple thank you, they are beautifully done and serve as a great reminder of the essential workforce and first responders on the front lines. At FOX (Fox News Media, Fox Sports and Fox Entertainment), all of our talent and executives have worked closely with the Ad Council on this important messaging and effort.
Last show binged not on your networks:
"QB1: Beyond the Lights." I watched this documentary series created by Peter Berg with my husband and daughter. Our daughter is a competitive athlete and with sports and competition shut down right now, it has been great for her to see these athletes from around the country at the top of their game training and competing. It's extremely well done and has great storytelling. And it serves as a great reminder that no dream is impossible to achieve.
Worst job you ever had?
My amazing and brilliant Mother Marie passed away in mid-February this year at the age of 89. She grew up during the Great Depression. And, she was big on her children having jobs and chores growing up. The one job I hated the most was weeding the garden. I had to do it every weekend rain or shine and she would come out and inspect her gardens looking for something I missed. She would point her finger and say "look here you missed one" or "you didn't get it from the root" and "you can do better." And while it was the worst job, I realize it gave me a great gift. I have a very strong and critical eye and it has certainly helped me as I manage the many screens and platforms we have on linear, digital and D2C. My Mom is the voice in my head reminding me constantly to look for improvements and ways to do things better.