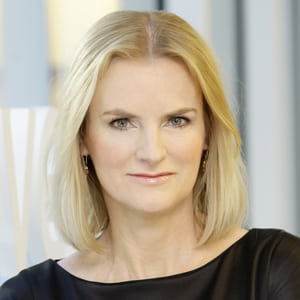 With the 2018 Winter Olympics in Pyeongchang around the corner, Kieli is intensifying her ongoing work to share this remarkable event with as many viewers as possible, including reaching consumers directly through the Eurosport Player app. She's also developing partnerships across the region and has plans to continue the expansion of Discovery's direct-to-consumer business. If she could have dinner with anyone, it'd be tennis star/feminist Billie Jean King. "Her victory in the 'Battle of the Sexes' with Bobby Riggs in 1973 was a key milestone," Kieli says.
Who is your favorite current female TV character and why?
I must say "Game of Thrones" continues to impress with its incredibly inspiring and strong female characters. Always a fan of the role of Daenerys, this season I have also been following the great character development of Sansa Stark. Starting off as a young and somewhat naïve girl, she has built her strength on the terrible trials that life has put her through. After years of enduring various atrocities, she emerges as a powerful woman, making bold leadership decisions in a world dominated by men. At the same time, she remains a kind-hearted personality, loyal to her family and good to the people she can trust.
What famous woman, living or deceased, would you like to have dinner with?
Since welcoming Eurosport into the Discovery family in 2015, I have been steadily developing a love of all things sport, so I would have to say Billie Jean King, U.S. tennis legend and champion of 20 Wimbledon titles. Her victory in the "Battle of the Sexes" with Bobby Riggs in 1973 was a key milestone in public acceptance of women's tennis and a strong statement in respecting female athletes and recognizing their incredible power.
Best advice for relieving stress?
I am a very practical person, so I would say the first step is to either work to resolve the stressful situation or accept the fact that it can't be fixed. The next step is to help yourself relax by doing something that you enjoy. In my case, I would probably read one of my favorite memoirs, cook something delicious, or simply get comfortable and read a fashion magazine.