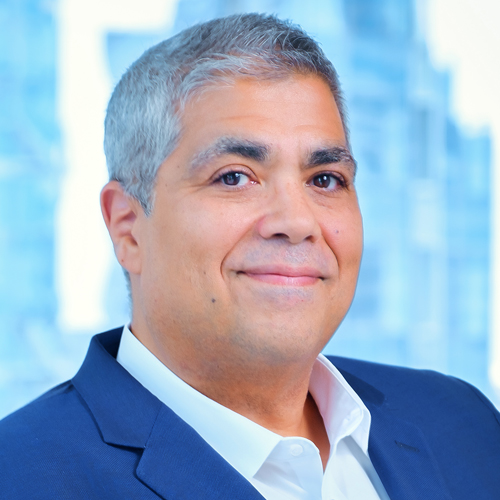 The Why? The implementation of Comcast's ERG new governance and funding model and his leadership of engagement with Comcast's external Corporate Advisory Committee are just two of the ways Otero continues to move the DEI needle. He manages the DE&I data analytics team and he recently oversaw the expansion of the company's DE&I Speaker Series. He's also the inaugural co-chair of the Aspen Institute Latinos and Society's Task Force on Latino Digital Success.
He Says… "DE&I initiatives cannot be successful without a sincere commitment from the top."
Advice for productive conversation about race in the workplace? My advice is simple—embrace the difficult topics with charity and understanding.
What community support initiative has your company championed that you're most proud of? I am incredibly proud of the progress and commitment we have made to digital equity. Specifically, earlier this year, Comcast NBCUniversal Telemundo and the Hispanic Federation announced the launch of the Latino Digital Equity Centers Initiative to strengthen workforce development and digital training programs in the Latino community. This will help increase digital equity for thousands of Latinos, who make up 14% of the workforce yet represent 35% of workers with no digital skills, allowing them to better compete and pursue true economic mobility.
Book I wish everyone would read: "Quiet: The Power of Introverts in a World that Can't Stop Talking" by Susan Cain and "A People's History of the United States" by Howard Zinn.
What TV series or movie inspires you? All things Star Trek because of the hopeful vision of a collective humanity striving for great things.
How can leadership best support DEI? DE&I initiatives cannot be successful without a sincere commitment from the top. For our employees to be committed to creating a lasting culture of inclusion, they must see a commitment from our executives. One of the primary ways to do this is to make sure DE&I is part of every level of strategic engagement. For example, our Comcast Cable and NBCUniversal CEOs' staff meetings, and even our Board meetings, include regular discussions about our DE&I progress. These types of conversations spark transformational change, accountability, and a shared responsibility for progress.
Coworkers describe me as… My colleagues would describe me as someone who is thoughtful and intentional in my approach. I feel incredibly passionate about the work we do—personally and professionally—and about the success and development of my team. I also try to bring a sense of humor to the workplace, and my wealth of knowledge about a variety of subjects, including all things DE&I, public policy, and everything and anything related to the Marvel universe.
How inclusive is your recruitment and talent development? We are always striving to make our recruitment process and talent development initiatives as inclusive as possible. One of the ways we are encouraging this is having regular conversations with leaders, HR teams,and employees about how to cultivate that inclusive culture. Every year, we host a DE&I Day for our employees that includes a learning component. This year, the learning component focused on Psychological Safety in the Workplace. Our talent development team also has an entire suite of learning activities through our DE&I Learning Site, which offers a variety of learning experiences with a focus on simple, easy-to-implement actions that help to build inclusion every single day.  The team also has a newsletter called "Be Inclusive" that includes tips for employees, leaders, and talent acquisition teams to help create an inclusive experience for our employees and future talent.