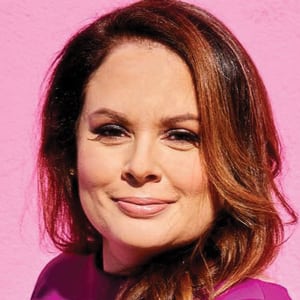 Innovation in genres, storytelling and formats marked Rodriguez's year. Univision revisited iconic telenovelas reimagined for a new generation, including "La Usurpadora," and relaunched competition show "Nuestra Belleza Latina."
This summer, Rodriguez led Univision to break new ground with "Juntos El Corazon Nunca Se Equivoca," the first Spanish-language US broadcast series to feature a same-sex couple as the main protagonists. And on sister network, UniMás, she led a bold new strategy to differentiate the net with primarily live content. "I'd tell my 13-year-old self to be empowered by the fact that I was raised in a bilingual and bicultural household," Rodriguez says.
What specifically does your company do to support and elevate the women who work there?
I am incredibly proud to be a founding member of Univision's Women's Leadership Council, which looks to develop the next generation of strong female leaders through professional development and other programs, including the Women's Leadership Academy. This annual program allows us to support the growth of high-potential women at Univision through a weeklong intensive program in partnership with Smith College.
What advice would you give your 13-year-old self?
I'd tell my 13-year-old self to be empowered by the fact that I was raised in a bilingual and bicultural household. When you grow up as the child of immigrants straddling two cultures, it's easy to feel like you don't fit in completely in either one. Now, as an adult, I know firsthand how beautiful and powerful it is to be able to navigate the two worlds and I would encourage all young people to feel the same.
Which current shows best reflects the kind of women's roles you like to see and why?
It's so refreshing to see women playing more complex and nuanced roles throughout film and television. I'm especially proud of how we at Univision have expanded the idea of what a female lead in Hispanic television can be. We champion female characters who are authentic, complex and embody both aspiration and relatability. From the working moms on "Por Amar Sin Ley" and the groundbreaking lesbian romance on "Amar a Muerte" to our reality tv competition "Nuestra Belleza Latina," which last season featured women of all shapes and sizes, Univision is taking great care to ensure that our screen represent a truly diverse range of Latinas who are everyday heroes.