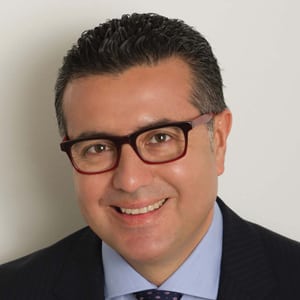 Since taking his new position last year, Garcia has focused on communicating Comcast's work to evolve the video, internet and home security experience for customers, many of them bicultural, in the Florida region. This past summer, he was the driving force behind the region's marketing plan designed to leverage World Cup 2018. Garcia touts Comcast's Internet Essentials program among industry efforts to tackle the digital divide. "The harsh reality is that while 81% of all United States households subscribe to broadband at home, only 63% of all American households with annual incomes less than $35,000 have a broadband subscription at home," he says.
What's a recent example of a step forward for diversity in the industry?
One of the areas in which the industry continues to make progress is tackling the digital divide. The harsh reality is that while 81% of all United States households subscribe to broadband at home, only 63% of all American households with annual incomes less than $35,000 have a broadband subscription at home. Comcast has been taking ambitious steps to try and close that gap. That's why I am so proud of Comcast's Internet Essentials, which is the cornerstone of our efforts to bridge the digital divide. In just seven years since the program began, Comcast has connected more than six 6 million low-income Americans to high-speed internet service at home, and more than 80 percent of Internet Essentials customers are people of color. We continue to expand the program, making 35 enhancements over the last seven years, recently including households receiving HUD housing assistance, seniors and now Veterans. This past year was the single best in the program's history – we connected two million more people. Now Internet Essentials is the most successful broadband adoption initiative in the United States.
But for families, it's not just about increasing the opportunities to "get connected" in a technological sense, it's about enhancing the emotional connections that come while experiencing diverse content.
At Comcast, we not only curate inclusive stories that reflect our communities, we create entire destinations across our Xfinity platforms that are tailored to the interests and experiences of our diverse customer base. Currently, there are more than 100 diverse networks available on Xfinity platforms and, in 2017 alone, more than 14,000 hours of diverse On Demand and online programming was offered. X1 destinations now include LGBTQ film and TV, Black film and TV, Asian American film and TV, and International.
We are proud to have been the first in our industry to launch Voice Guidance, a talking guide on TV that reads aloud program titles, channels, and content, helping low vision and blind people to fully enjoy television. In addition, X1's voice control, voice guidance and closed captioning helped customers with disabilities access all 94 hours of the 2018 Paralympics coverage on NBC.
What's your best advice to someone just entering the video content/ distribution industry?
The best advice I could give someone entering our industry is to be a real student of the game so to speak. Success nowadays requires a growth mindset and a real commitment to learning because things are changing so quickly. What was "true" yesterday in terms of viewer likes/dislikes, consumption patterns, distribution platforms, and the rest, may no longer be applicable today, and certainly will be challenged in the future.
In the past, a new entrant in the cable space just needed to worry about an unmet need for Cable TV viewers, this is how we saw, for example in the last decade, a proliferation of Spanish-language country of origin News, Regional Music Videos, Latin America Movies or millennial-focused channels. Today news is served by Twitter and Facebook live streams; You Tube/Pandora have strong Spanish language Music video libraries, Netflix is a global platform that aggregates tons of Spanish-language long-form content and millennial-oriented content is predominantly consumed through mobile devices and social platforms. Furthermore, X1 aggregates seamlessly all of this content with simple voice commands so finding that content whitespace becomes more elusive.
We see that younger people, not surprisingly, are embracing digital platforms and internet-connected devices much more quickly than older demographics. We also know that the younger demographic consumes media on digital platforms (phones, tablets, and computers). Understanding how to deliver content for this audience is critical for someone coming into the industry.
What's been the most dramatic change in your sector of the business today vs. three years ago?
I believe that the most dramatic change in our business today vs. just a few years ago is the acceleration of time-shifting trends made possible by digital set-top boxes and digital video recorders. That is partly due to the fact that today's TV landscape is overflowing with great programming from a diverse and growing range of networks—and viewers are consuming more than ever. But with so many choices (and a limited amount of time), technology is now critical to helping viewers' to decide what programming will make their list.
The technology and enhanced capabilities of digital set-top boxes have dramatically expanded the ways in which people interact with and experience content, such as over-the-top (OTT) offerings that include both non-linear (such as Netflix) and linear (like Sling) as well as the easy consumption of short form video (eg, YouTube) by younger demographics.
In order to stay on top of these advancements in both technology and behavior, Xfinity has made a very deliberate and comprehensive effort to consolidate all of these experiences into our X1 platform.