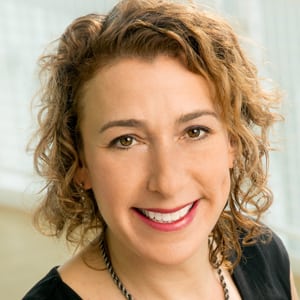 Years in Cable: 13
Education: BA, Oberlin College, focus on theater directing
One Word that Best Describes Me: Passionate
Daniels' leadership and decisiveness have led TLC to record-breaking success. Her knack for identifying inspiring stories about fascinating yet relatable people has become the hallmark of the network, on both linear and digital platforms. While overseeing the transition of Discovery Fit & Health to Discovery Life Channel, Latman continued creating exciting, on-brand content for ID's dedicated audience and raising the bar for the true-crime genre. She also garnered big ratings for Destination America with the Exorcism Live! special. Etkind showed respect for Science Channel's audience by pre-empting regular programming for live-breaking NASA reports about the exploration of Mars, and by instituting nightly one-minute Science Presents DNews updates on the latest science and technology news. And Scanlon's programming strategies expanded the global reach of Velocity and Turbo, turning Velocity into cable's fastest-growing network in A25-54.
My cable industry mentor and why: Henry Schleiff because he brings intensity and a refreshing sense of humor to everything he does
What was the last costume that you wore and why? Convict in an orange jumpsuit. Because I work at ID!
Virtual reality is… an exciting new way to immerse fans in our programming. We just launched a DA Ghost Asylum experience and our fans absolutely love being "brave" enough to join the cast alongside a ghost hunt.
My first job: Paper route. Even got bitten by a dog trying to collect the weekly fee, completely cliché but character building!
"Star Trek" celebrates its 50th Anniversary this year. So if Mr. Spock's motto is "Live Long and Prosper," mine is… "Reduce and Simplify," it's a great guide for cutting through clutter, both literally and figuratively.
New favorite binge: Just finished "The Affair," can't wait for more and currently in the middle of "The Fall." SO CREEPY!
I watch the majority of programming on this device: Computer. Love being able to watch anywhere, anytime.
My favorite newfound hobby: Early morning bootcamp. Actually is my favorite newfound hobby on the drive home AFTER the workouts!
Favorite vacation spot: Chacala, Mexico. It's a tiny fishing village on the Pacific coast that we go each year with cousins to unplug and unwind.