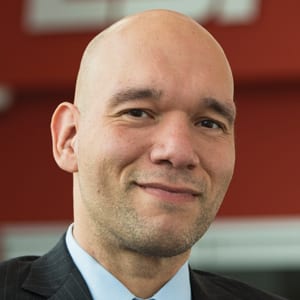 The Why: As the highest-ranking Latino employee at ESPN, Rolón has pushed the company forward in its Hispanic and Latinx efforts, including launching ESPN+ Más, which curates culturally relevant content for Hispanic/Latinx audiences. He also aired content timed with Hispanic Heritage Month in English and Spanish across ESPN and other Disney platforms. He's shaped the direction of the overall industry, too, with his work for NAMIC.
He Says… "For a show that celebrates diversity, how about three: Starz's 'Blindspotting,' Hulu's 'This Fool,' Netflix's 'Freeridge.'"
First job in the industry: My internship at ESPN
The last app I I used: The ESPN app.
Place I would love to retire to: NYC—sign me up for season tickets to the Yankees and Knicks.