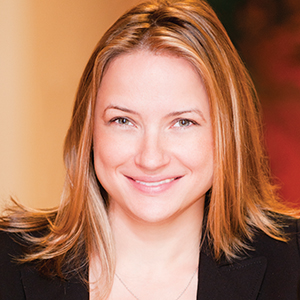 Years in Industry: 23
Education: BFA in film and television from New York University's Tisch School of the Arts.
This quartet guides some of the biggest Discovery brands. White helped launch Discovery's DTC Food Network Kitchen app and premiered Food Network's "Buddy vs. Duff," the series' highest-rated freshman series since 2017 (P25-54). Page is gearing up for Magnolia Network's launch, unfortunately delayed from October due to production shutdowns from the coronavirus. Latman took over Page's role as president of HGTV in April 2019, and oversaw the debut of new tentpole series "A Very Brady Renovation." And TLC has its best prime yearly performance in 16 years among key demographics P/W25-54 and W18-49, thanks to Lee's leadership in strengthening the net's pop culture relevance.
The COVID-19 pandemic forever changed my perspective on:
Adjusting to a remote work environment and workforce to continuing the production lifecycle amidst all the shelter in place directives.
How has the pandemic shaped the industry's future?
The ingenuity and out of the box content creation that has been deployed to continue to deliver new content to audiences in the face of the pandemic will continue to influence and serve as inspiration for future shows and productions. I think one of the greatest lessons here has been that we can move quickly and that we can be topical and timely.
Number of subscriptions to streaming services:
4
Without sports on TV, I have…
Edge of the seat action and inspiring stories every day on both Food Network and Cooking Channel in series such as "Beat Bobby Flay," "Chopped" and "Guy's Grocery Games" and more. One example of how the action of a culinary competition is so akin to the action of live sports – we launched a new series with Guy Fieri in March called Tournament of Champions. It was a bracket-style sudden-death competition format in the style of March Madness. The chefs competed head to head in front of a live audience and the action, tension, ups and downs and competitive spirit was just like watching a sporting competition. Chefs are athletes in their own right, succeeding or not by their skills and execution with every dish they produce, and the kitchen is their arena. Fans really turned out for the series for that competitive action and elite performance that is just like the thrill of live sports.
When restaurants open back up, my first stop will be…
I look forward to continuing to support local restaurants even more so once everything is open which we have been able to do even during this stay at home period through take-out and delivery. Restaurants are such an important part of the fabric of the communities they are in – they are celebrated and featured on our air and we will continue to showcase them, sharing stories of these much-loved institutions across the country and the people who put their heart and soul into every bite they serve.
Last content I streamed:
"Unorthodox"
Is cable recession proof?
I believe there will always be an audience appetite for good content, big characters and great stories.
Working from home has taught me…
As trying as these times have been, it has been inspiring on so many levels to witness the creativity and capability of our team, our talent and our partners to adapt, learn and grow. We have been able to react in real time, innovating on the fly and bolstering our schedule with new self-shot shows with talent at home. It has taught me the incredible ability we have to be nimble and quick in our content creation process.
Best Zoom background goes to…
I have to give credit to our Food Network team who created and shared a number of backgrounds for fans to use for Zoom from some of their favorite Food Network series like "Chopped," "The Kitchen," "Guy's Grocery Games" and more – so pending the day I can opt for a front-row seat on the Chopped set or pull up a chair in "The Kitchen."