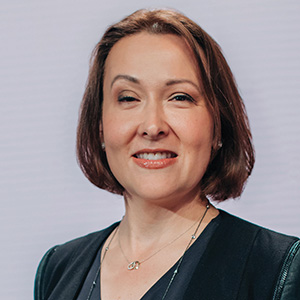 Years in Industry: 20
Education: UC Berkeley and NYU School of Law
Since rising to her current role last year, Hildebrandt has pushed Fox's product and engineering teams to craft even better digital experiences for viewers. In 2020, she has pushed her teams to deliver 4K HDR quality to consumers as well as 5.1 audio. Behind the scenes, Teran crafts the legal strategy for all of Fox's sports and entertainment assets. It wasn't just Teran's professional world that was thrown for a loop when live sports were put on pause due to the pandemic. She's an avid sports fan, especially of international soccer.
The COVID-19 pandemic forever changed my perspective on:
The importance of regular contact with family and friends, even by phone, to make you laugh and give you perspective on your life.
Without sports on TV, I have…
Spent a lot of time revisiting the greatest games in history, and explaining to my 5-year-old son that they are not actually happening right now.
What about travel used to annoy you but that now you actually miss?
Travel time… and that moment when someone tells you to turn all of your devices off…
My prediction for a new business or product that could emerge from the pandemic is…
Consultancy firms for the creation of virtual zoom home backgrounds and zoom makeover advice.
The first thing I'll do when I'm back in the office is…
Namaste bow to my assistant, and thank her for her positive energy and for helping to keep the boat afloat.
Working from home has taught me…
To breathe deeply and have a sense of humor about technology not working as it should, because you might get a chance to revisit the same issue day, after day, after day…