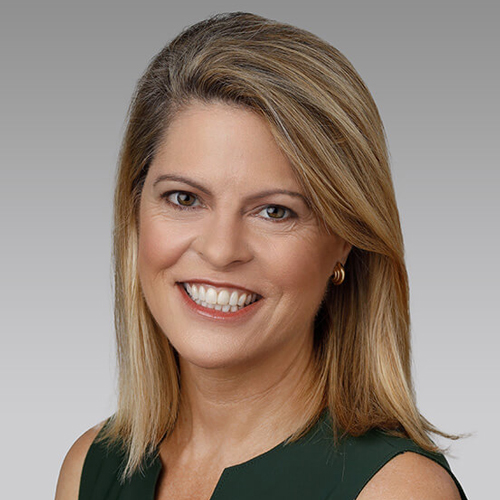 By Cathy Applefeld Olson
Catherine Bohigian is our Advocate honoree this year because she's not only led Charter's regulatory strategies since joining the company in 2013, but also more than ever she's determined to champion policies that enable the company to best serve its customers.
Navigating regulatory waters is no easy task. "The complexity of the issues confronting Washington and state legislators and regulators today certainly make it more difficult to find common ground, and it's always challenging to navigate the nuance of some policy or political debates," says Charter's EVP of Government Affairs.
The cases in point are myriad. Bohigian continues to shepherd the MVPD's participation in the Rural Digital Opportunity Fund, the emergency broadband relief program that will disburse up to $20.4 billion to help bridge the digital divide. During the past few years she dug deep to effect change regarding specific issues that can accelerate the bridge-building. When evidence pointed to pole attachment issues potentially hindering the deployment of broadband to unserved and less populated areas, she kept her foot on the gas in Washington and helped bring about a 4-0 vote at the FCC this March to seek comment on establishing clear rules for the ways utilities and attachers must share in the costs of pole replacements.
"This space is constantly evolving, but the pandemic really put our industry in the spotlight in a way that we have not seen since Congress passed the Telecommunications Act of 1996," she says of broadband. "The internet service we sell became a lifeline for people. That brought more government focus on us than we'd ever had before. At the beginning of the pandemic, we were fielding calls and inquiries nonstop from almost every elected official, from local governments all the way up to the White House."
Under Bohigian's guidance, Charter gave away free service to those in need at the onset of the pandemic and then became active in the government's consumer subsidy programs when they became available. Charter also increased deployment of broadband in rural areas and participated in most federal and state deployment programs where the company operates. "We're focusing on both sides of the digital divide: Bringing broadband to unserved areas and helping those in low-income communities afford it," she says.
Bohigian also makes it a point to be up on the myriad technology evolutions including cryptocurrency, social media regulation, online privacy and data security that are introducing new policy discourse. These kinds of issues "may concern public officials even though they may not fully understand the technical details," she notes. "Technology as an advocacy tool has also developed significantly over the last 10 years."
She has earned the respect of many in Washington circles and has a loyal following from her team. "When I joined Charter, it was my third time leaving a job to join Catherine," says Elizabeth Andrion, Charter's SVP of Regulatory Affairs, Government Affairs. "She is brilliant at seeing all angles and making quick, astute decisions. She is also an exceptional and supportive leader with a rare talent for both setting extremely high standards while still trusting her team in a way that develops confidence to excel in their jobs."
In a career punctuated by milestones, the ones that stand out most to Bohigian have required meaningful collaboration across business units and at various levels of the company.
"A highlight was gaining approval for a transaction that tripled the size of our company; we had a great team that helped the Obama Administration understand why the combination was in the public interest," she says of Charter's 2015 purchase of Time Warner Cable and Bright House Networks.
"More than anything, I think having a great team and creating an environment where everyone can thrive is critical," she says. "Hire good people, give them responsibility and trust them to do their jobs."
Fast Facts
Bohigian leads a team of 140 as EVP of Government Affairs for Charter
She joined Charter from Cablevision, where she opened its DC office and served as SVP, Federal Affairs. She also held several senior roles at the FCC, including Chief of the Office of Strategic Planning and Policy Analysis and Senior Advisor to then-Chairman Kevin Martin
Bohigian received a B.A. from Duke University, and a Juris Doctor from Harvard Law School