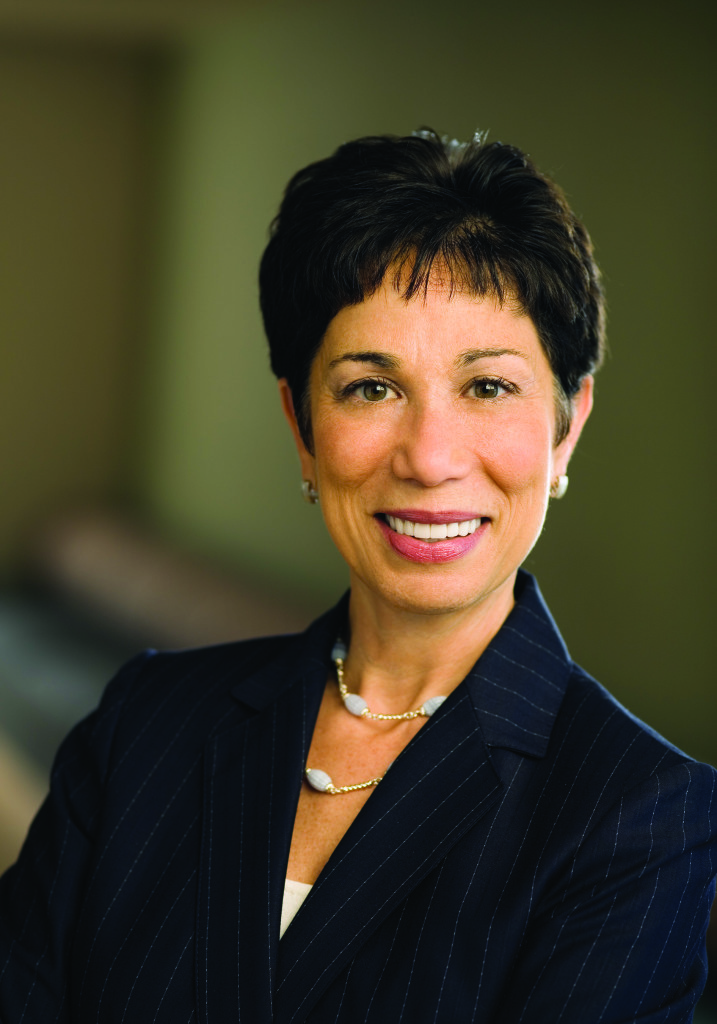 Behind Adria Alpert Romm's desk is a framed photo of the world with images imposed on it such as a tiger, log cabin and a fork full of pasta. The idea is to represent the combined genres of both Discovery and Scripps Networks. It's appropriate art for a woman who has helped blend together two different companies to create the second largest US media company. She's long had a close relationship with CEO David Zaslav—which has served her well as her work on the integration began even before the deal was signed.
"I was in it from the point where there was even a glimmer of hope that this would be something that would happen, so I felt very well prepared," recalls Alpert Romm, Discovery, Inc's Chief People & Culture Officer. "We're always at the very early stages, even when it's just a rumor."
One year after the $14.6 billion Discovery-Scripps Networks merger closed, Alpert Romm feels pretty good about the results. "It's like a test case in a very methodical approach to integration, which was tied to data and analytics," Alpert Romm says, adding that the company worked with analytics firm McKinsey. "We really did look at how we went about our work, how we would integrate like systems, like organizations—and then ultimately keep those brands, HGTV, Food and so on. We integrated Travel into the broader portfolio of ID. We made sales structures different. We really took our time, but in nine months it was an incredible effort. We did have to reach some synergy targets, which we did."
Hitting those targets meant making some tough decisions, including layoffs and shuttering Discovery's Silver Spring, Maryland, headquarters and shifting staff to New York, Knoxville and a satellite group of about 600 employees split between Silver Spring and Sterling, Virginia.
"One of the key things I believe was that we communicated to employees on an ongoing basis," Alpert Romm says. "Everyone heard that you will know if your role will be impacted by the summer, and here is how your severance will work, and here is how any relocations will work. It's absolutely nerve-wracking, but everyone knew that they were going to be told by August and that was a very positive thing… I really believe today that we all feel like Discovery."
It certainly had to help the integration to know that Scripps employees were about to receive the sort of industry-leading benefits that helped earn Alpert Romm this accolade. Discovery has set a high bar with its on-site wellness centers, in-house daycare, extended parental/caregiver leave and more. When she joined Discovery in 2007 with Zaslav from NBCUniversal, she saw ways to make a difference, particularly given the high number of female employees.
"I went to David and said, 'It's going to cost $2 million to build a daycare center. Can I have the $2 million?' And he said yes because he supported that. That's been to me the defining moment of my career," she says. Discovery is currently exploring adding an on-site daycare to its Knoxville campus. It's also added wellness centers in London and Sterling, and currently has one under construction in Knoxville.
Alpert Romm's influence has extended outside of Discovery as well, as she was the key architect behind the "Say Yes to the Prom." The eight-year-old program, a twist on TLC's popular "Say Yes to the Dress," gives hundreds of underserved and high achieving high schoolers a day that features a free prom dress or tux as well as mentorship and networking. Emma Bowen Foundation and Will & Jada Smith Family Foundation's "Careers in Entertainment" are partners. It began as a program at Silver Spring, but has expanded to a nationwide initiative with stops in Denver, L.A., NYC and Knoxville. Alpert Romm's never one to rest on her laurels. She's already exploring the idea of expanding the program to include "Say Yes to the Prom" kits that could help small communities collect dresses and hold similar events. The kits may or may not happen, but you can bet she'll keep looking for new ways to have an impact.
"I always tell my team, 'always say why not.' Why can't we do this?" Alpert Romm explains. "I learned that at NBC, and I felt coming in and being a top person at a company and working with David that I could do it. That I could have the support of leadership and feel the freedom to say 'why not.' I do feel we are the best."
– Amy Maclean