NFL Partners With Snapchat on 'Live Story'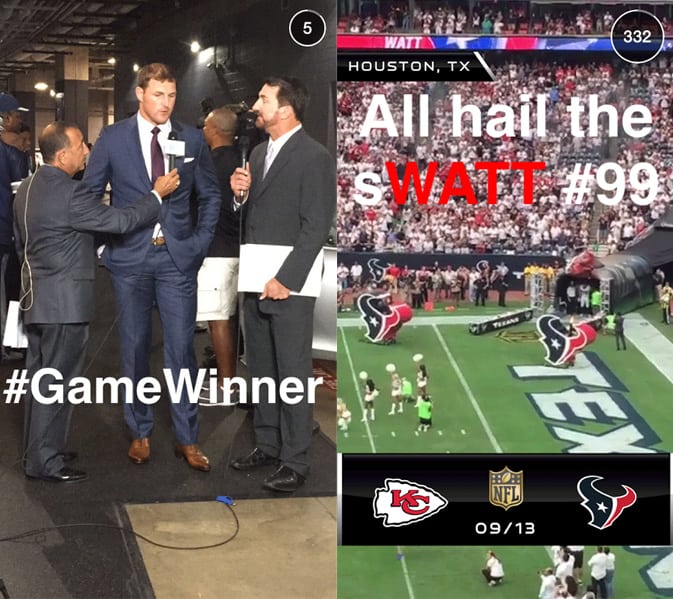 NFL is teaming up with Snapchat to create weekly programming during the league's NFL regular and post seasons, including the Super Bowl. All 32 NFL teams will be featured in curated snaps through the platform's "Live Story" feature (formerly referred to as Our Story), which lets users contribute snaps around a particular designated, live event and replay the curated story for 24 hours.
In this case the curated snaps will consist of those submitted by fans (from select NFL game and event locations) and those from the league featuring inside access to things like players warming up pre-game, snaps of press conferences, cheerleaders on the sidelines, shots of the team mascot, etc.
The partnership kicked off last week, with the next Live Story tonight surrounding the Thursday Night Football game between the Denver Broncos and Kansas City Chiefs. As far as which games are picked, some weeks they'll be around Sunday's action, others on Thursday nights. "Fans will just have to wait and see," the NFL said.
This isn't NFL's first partnership with Snapchat. It did one surrounding the 2015 NFL Draft in Chicago which was viewed by 15 million fans globally. That was a good indication of how engaging NFL content would be on Snapchat, according to an NFL spokesperson. MLB has also been running Wednesday Live Stories since May.
The NFL has opened the Live Story up for brand advertising, which is one of two ways Snapchat is making money through ads right now. The NFL said brands have expressed interest in advertising and there will be an announcement about that soon.
MTV was another media property to take advantage of Live Story with the VMAs. And other cable networks like Comedy Central and Fusion have begun creating original content on Snapchat's Discover platform.