Lifetime's 20th Year of Raising Breast Cancer Awareness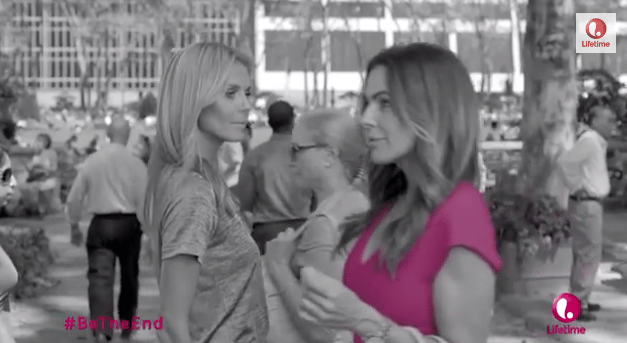 Lifetime was one of the early networks to wrap itself in a cause, and it hasn't forgotten its commitment. Twenty years have passed since the net's first campaign to find a cure for breast cancer, and the network's still taking up the cause. This October, Breast Cancer Awareness month, Lifetime has exclusively partnered with Breast Cancer Research Foundation's #BeTheEnd initiative, which features a PSA with Heidi Klum ("Project Runway").
"It's really been our legacy. The sad part is we're still doing it 20 years later. We've made some strides, but there still is so much that can be done," A+E Networks chmn Abbe Raven said. "Lifetime was really an early adopter of these kinds of outreach programs, and I'm extraordinarily proud we're continuing that legacy."
Lifetime's Stop Breast Cancer for Life campaign has included a years-long petition to stop drive-through mastectomies, which has amassed more than 25 million signatures. It's included a movie based on the book "Why I Wore Lipstick to my Mastectomy," written by then-Lifetime exec Geralyn Lucas. Other components have included the debut of "Five," an anthology of short films about breast cancer.
This year, Raven said the net wanted to work closely with an organization that wouldn't just raise awareness for the disease but has a strong reputation for giving money to research. The Klum BCRF PSA, which highlights how breast cancer affects everyone with one in eight women diagnosed in their lifetime, will across A+E Networks' channels, as well as be seeded throughout social media. Among affiliates, some 174 markets have signed up to air it. The net also is providing in-store materials about the campaign to operators.
"We feel it is a dramatic, one-of-a-kind breast cancer PSA, with an incredible call to action: the end of breast cancer starts with you. And it ties to the BCRF campaign, which is #BeTheEnd—that everybody has the power to play a role in ending breast cancer," Raven said.
Throughout the month, Lifetime will air programming dedicated to the cause, including movies "Five" and "Living Proof" on LMN. It's also making several shows, including "Double Divas: Breast Friends" and "Dance Moms Cares Special" available through Comcast's Pink Ribbon On Demand Initiative.