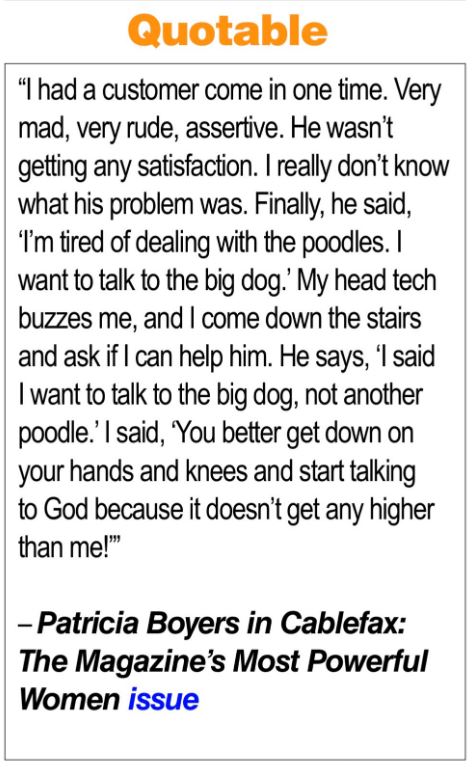 Tweet Tweet
Usually C-SPAN uses 3 cameras to cover a hearing.

For some other notable hearings, like #scotus confirmation hearings (Gorsuch & Kavanaugh): 5 cameras.

Today (just like Wednesday): @cspan is using 7 cameras for #impeachment hearing. pic.twitter.com/FeJMNyjZsf

— Jeremy Art (@cspanJeremy) November 15, 2019
I am getting so many tweets about story lines in #EvenStevens and I do NOT remember that many episodes…guess I have to binge watch it now! #disneyplus

— ChristyCarlsonRomano (@ChristyRomano) November 14, 2019
Up Ahead
Nov 19-20: Streaming Media West 2019; LA
Nov 21: Gracies Leadership Awards, NYC
Dec 4: TV of Tomorrow Show, NYC
Dec 5: Cablefax Most Powerful Women 2019, NYC
Dec 5-6: CableLabs Latin America & Caribbean Summit 2019, Miami
Dec 13: Cablefax Work Culture 2020 Entry Deadline
Research
➢ Average consumption by cord-cutter subscribers was 520.8 GB, an increase of 7% in Q3 alone.
➢ 12% of cord cutters are "power users," consuming 1 TB or more of data/month. That number increased 62% YOY.
➢ Only 29% of consumers upgraded their broadband packages when speaking with customer care teams about severing video services. 4% downgraded.
(Source: OpenVault Q3 OBVI Report)
Quotable
"I had a customer come in one time. Very mad, very rude, assertive. He wasn't getting any satisfaction. I really don't know what his problem was. Finally, he said, 'I'm tired of dealing with the poodles. I want to talk to the big dog.' My head tech buzzes me, and I come down the stairs and ask if I can help him. He says, 'I said I want to talk to the big dog, not another poodle.' I said, 'You better get down on your hands and knees and start talking to God because it doesn't get any higher than me!"'
– Patricia Boyers in Cablefax: The Magazine's Most Powerful Women issue