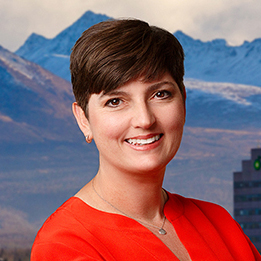 Tina Pidgeon played a pivotal role in the impending purchase of GCI by Liberty Interactive in a deal valued at $2.7 billion. But when asked her biggest accomplishment of the past year, the general counsel, chief compliance officer and SVP, governmental affairs for Alaska's largest data, wireless, video and voice services provider is all about highlighting the ways she's serving the company's customers.
"I have been working with other Alaska companies to secure longterm universal service funding for Alaskans," she tells CFX. "And the FCC adopted that plan toward the end of last year and in doing so will create incredible opportunities for advancements in wired and wireline broadband for residents throughout rural Alaska."
Pidgeon's effort to help secure FCC adoption of the "Alaska Plan," which will see $1 billion of federal Universal Service Fund money provided to 15 Alaska-based wireless and wireline telecom providers over a 10-year period, was six years in the making and is just one example of the tireless dedication that renders her our pick for top advocate in the indie sector.
Meanwhile, the deal with John Malone-led Liberty would create a company called GCI Liberty, in which GCI would be its largest operating asset and Liberty would own 84 percent of voting shares. It's expected to close later this year.
Looking ahead, Pidgeon remains focused on her role in surveying the regulatory climate and championing new paths for the citizens in her corner of the Pacific Northwest.
For one, she's looking at new applications for broadband coming down the pike and what it will require for GCI to continue to meet those demands. She's also assessing integration complexities. "We are a little unique in that we already have wireless and wireline platforms, so I'm looking at what tools are we going to be able to make for our customers to have a truly seamless experience in how they want to use broadband to enhance their own individual quality of life."
Which is not to say GCI operates in a cable vacuum. "While on the surface it might seem our efforts are somehow uniquely applicable to Alaska, I don't think that tells the whole story," Pidgeon says. "The challenges we face in Alaska have caused us to be on the forwardleaning edge of technology and pushing solutions to bring services to our customers in very unique and challenging environments, but ultimately in addressing those challenges we've paved ways to find solutions, especially with respect to infrastructure deployment, that can be applicable nationally and internationally."
While she used to reside full time inside the beltway, today Pidgeon travels to D.C. every six to eight weeks, with her expertise spanning all levels of government. "Tina's deep understanding of our business, combined with her extensive expertise and experience at both the federal and state levels, have made her a tremendously effective advocate for GCI, whatever the policy or legal issue in question. She is a key member of GCI's senior management team," says GCI COO Greg Chapados.
She's also a seasoned diplomat. When it comes to the current vibe in the nation's capital, she says, "I think with every Administration, this one included, there is opportunity to ensure we have the best environment to serve our customers and to innovate, and sometimes that calls for change and sometimes that calls for consistency in policies. As indie operators, we're used to navigating those waters."
– Cathy Applefeld Olson
FAST FACTS
GCI counted 108,000 residential video customers, 195,000 wireless customers and 128,000 Internet customers at the end of 2016.
Liberty Interactive's impending purchase of GCI is valued at $2.7 billion
Tina's husband Tim Fitzpatrick was formerly the vp of communications for Comcast Spectacor.