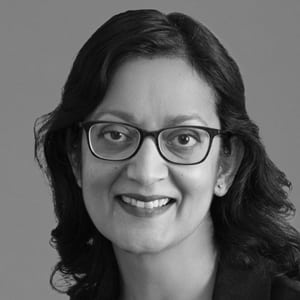 Under Quershi's guidance, Verizon launched the industry's first nationwide IoT-friendly, LTE network, and the company is bringing 5G wireless residential broadband to four cities in 2018. Her commitment to diversity is equally strong. "Our industry must demand inclusiveness—at conferences, in meetings and, of course, in attracting and retaining top talent," she says. "This kind of deliberate approach ensures the kind of quality products, teams, and succession pipelines that reflect the customers and stakeholders we serve every day and aim to connect with."
What's a recent example of a step forward for diversity in the industry?
The industry has changed dramatically in my career, especially in the last few years. Companies large and small are making commitments to intentionally include diversity as part of hiring, team composition, board memberships, etc., but we still have a long way to go.
At Verizon, we are doubling down on creating an inclusive culture, not just because it is the right thing to do, but because our business depends on it. Our success hinges on integrating diverse talent into every team and decision. This starts with hiring, and our diversity-focused recruitment strategy reinforces that inclusion is at the core of everything we do, and we are proud that our workforce is 59% diverse.
Here are just a few examples:
Diversity starts at the top, and we have one of the most diverse Board of Directors in the country. Seven of the 12 Board members are women or people of color.
Diversity is a core component in selecting our suppliers. On top of spending $5 billion in 2017 with diverse-owned businesses (women, minority, veteran, service disabled veteran, disabled, and LGBT owned), we launched a pilot mentorship program called EDGE (Educate, Develop, Grow, and Enrich). This innovative program provides diverse business owners with an opportunity to learn from Verizon's executive leaders in the areas of business operations improvement, leadership capabilities, and Verizon's business model. Mentees are the most senior leaders in our supplier base.
We have launched Unconscious Bias training for our entire employee base, worldwide and encourage our managers to actively remove unconscious bias from our daily operations.
In what areas should the industry step up its efforts with regard to diversity and inclusion?
Programs and initiatives are great, but action is better. To make a real impact, there must be a culture shift in tech and telecoms. Our industry must demand inclusiveness — at conferences, in meetings, and of course in attracting and retaining top talent. This kind of deliberate approach ensures the kind of quality products, teams, and succession pipelines that reflect the customers and stakeholders we serve every day and aim to connect with. Only then will the industry realize its full potential and build the innovative solutions of tomorrow.
What's your best advice to someone just entering the video content/distribution industry?
Ask hard questions and learn to be comfortable with failure. Too many young people, and professionals who have been in the industry a long time are afraid to have their ideas shot down, or to stretch their skills, because they don't want to be embarrassed or report a failure to their boss. Especially in this industry, we have to be willing to try new things and experiment with a new technology that might not work. Organizations must be willing to embrace failure as part of their culture of learning and innovation.
What's been the most dramatic change in your sector of the business today vs. three years ago?
We often say that "we don't wait for the future, we build it." The Fourth Industrial Revolution is going to change much of the way that we live, work, create, think, and learn, and Verizon is proud to be developing some of the technologies that will usher in this new era of unprecedented connectivity. The telecommunications industry is rolling out our next generation of wireless service in 5G, and that will unleash innovation and creativity in ways we cannot even imagine, so these are exciting times. That doesn't mean, however, that our fundamentals have changed. At the root of today and tomorrow, our customers come first.
If there were a reality show based on your office, what would it be called?
"The Big 5G Theory"