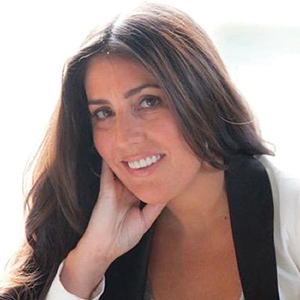 As head of development and production across MTV Entertainment Group's nine brands and studios, Diaz is known for challenging the industry, but also for cultivating talent and building diverse teams. She recently launched two initiatives designed to bolster a new generation of BIPOC and women creators. The first is a directors' program for creating films that showcase underrepresented voices, and the other is a $250 million commitment to incubating third-party production companies. "This last year has shown that people can change through the power of storytelling, so we'll start amplifying real issues, making the invisible visible and starting national conversations," she recently said during an interview.
What's one way your company has broadened the recruiting process to ensure greater diversity?
As an industry, we are starting to see the needle pushed towards greater diversity and inclusion, which is something I've championed my entire career, both as a storyteller and as an executive leading content for our brands. At MTV Entertainment, we are deeply committed to ensuring that shows across our portfolio are leading the industry in representation in front of and behind the camera and driving global conversations around diversity, inclusion and representation. We've been very deliberate about broadening our role and impact, and make it a priority to use our platforms to give rise to new fresh voices. Last year we established MTVE Group's first-in-class DE&I initiatives to bolster a new generation of BIPOC and Women creators including a $250 million commitment to support third-party production companies in-house and launched our First Time Directors program. Along with these moves, we partnered with top creatives and producers – Angela Bassett, Idris Elba, Jamie Foxx, Salma Hayek, Priyanka Chopra Jonas, John Leguizamo, Eva Longoria and Courtney B. Vance and their respective production companies – to develop movies for TV that celebrate diverse narratives. We leaned in together with these powerhouses to create dynamic and inclusive takes on the traditional holiday movie and less than a year later for this holiday season we have an exciting diverse array of movies to share with our audiences. By living up to our values and establishing content commitments to more authentic storytelling that reflects our teams and audiences, we want to help set a new standard for the entire industry.
How would you rate the industry regarding gender bias in shows/characters?
Now more than ever, I believe that the industry is making room for content creators to produce and depict stories that are more authentic, accurate and responsible. In order to ensure we are eradicating gender bias in both show creation and character development, it is imperative that when cultivating talent and building teams, they holistically reflect the world we live in. I reflect on our content this past year positively in terms of incubating this initiative seen through our work with the First Time Directors program as well as MTVE's New Group Productions, which nurtures third-party BIPOC and women-run production companies to bolster underrepresented voices. A great example of inclusivity, from start to finish, is MTV's Are You The One? which received a 2020 GLAAD Award for its depiction of LGBTQ+ relationships. Here, we see a phenomenal example of how creating a space for nuanced representation across the entire production development process will ultimately begin to lead us into an era where gender bias in content is just a distant memory.