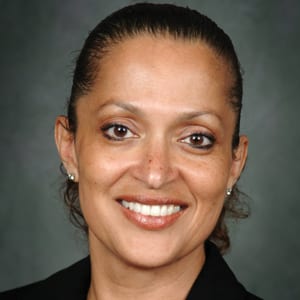 Since being named to her post this spring, Ray has kept the Foundation's mission on track while also taking a more active role in major events such as the 35th annual Kaitz Dinner. "Diversity in technology is one area where I believe we need to pay particular attention as it represents a huge growth area for women and people of color who don't currently have enough traction."
A February 2018 UCLA study revealed that of the 45 new scripted shows approved for 2017-18 across broadcast, cable and digital platforms, only four were from creators of color, all of whom were black. What is your reaction to this report?
As someone who has worked diligently over the years to help curate programs and experiences where diversity, equity and inclusion are front of mind, the study while disappointing was not a surprise. What was exasperating however was that despite the study's findings that diversity remains a profit center, we have seen no noticeable shifts in addressing the diversity imbalance at any level.
In fact, if you scratch the surface of the study, you will clearly see they conclude that films with casts that were from 21 to 30 percent minority had the highest median global box office receipts and the highest median return on investment, while films with the most racially and ethnically homogenous casts were the poorest performers. Based on these findings, why are we not more committed to employing people of color? The answer for me is simple – we must continue to challenge and expose the inequities that exist and work to create and promote a diverse pipeline that eventually feeds much of these needs.
What's a recent example of a step forward for diversity in the industry?
There has been a palpable sense that the tide has turned, with a widening appreciation of the importance of giving everyone an equal chance, regardless of their gender, ethnicity or other personal markers. But the truth of the matter is that we still have much more work to do around diversity, equity and inclusion. I was heartened recently by Comcast's report that its
Internet Essentials program – offering deeply discounted broadband service, hardware, and free digital literacy training to families in under-served communities – now has brought broadband connectivity to more than 6 million Americans. And Comcast has extended the program to military veterans, many of whom are people of color and women. This progress is continuing evidence of our industry's commitment to bring the benefits of broadband and the Internet to all Americans, regardless of income, or racial and ethnic background. Other companies such as Charter, Cox, Altice, Mediacom, and GCI—as well as some of our smallest cable operators—offer similar programs, that extend this commitment to rural and underserved communities around the country.
In what areas should the industry step up its efforts with regard to diversity and inclusion?
Diversity in technology is one area where I believe we need to pay particular attention as it represents a huge growth area for women and people of color who don't currently have enough traction. And in this new environment where technology is fundamental to achieving business success, we will need to see meaningful growth in this area. Like many other functional areas of our industry, we must cultivate more diverse teams which in turn will create better business outcomes. In fact, Harvard Business Review recently published an article that talked about companies where at least 30 percent of its executives are female, they will likely enjoy 15 percent gains in profitability and this can likely lead to advantages in recruiting and retention.
What's your best advice to someone just entering the video content/distribution industry?
My advice is simple: be smart, be nimble and take risks.
What's been the most dramatic change in your sector of the business today vs. three years ago?
I'd have to say that consolidation in the industry–across distributors, content providers, and manufacturers—is by far the most dramatic change that I have seen and experienced recently. M&A activity often provides benefits to consumers in terms of the ability of our companies to leverage economies of scale and truly ramp up new services, technology and content. Admittedly, however, it's a challenge to the associations and organizations that promote and encourage diversity and inclusion. The viability of these groups—including the Kaitz Foundation—depend upon commitments of money, time and human resources by our industry companies. We hope they will see their way through consolidation by bolstering – and not lessening—their commitments to organizations and activities that promote diversity, equity, and inclusion.
If there were a reality show based on your office, what would it be called?
That's easy! Our reality show would be called, "Make It or Break It.