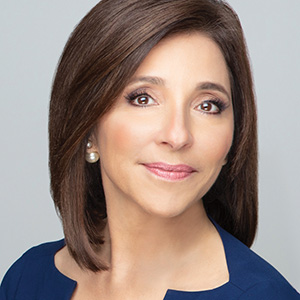 Years in Industry: 20+
Education: B.A. Telecommunications from Penn State University
Between the launch of Peacock and taking NBCU's One Platform global, it's been a busy year for Yaccarino. She spearheaded a new global partnership with Sky, allowing marketers to purchase ads across Sky and NBCU's programming on both TV and digital media, and across each company's global IP portfolio. NBCU also permanently reduced the number of ads across several categories in order to benefit both consumers and marketers. Under Yaccarino's leadership, AVOD streamer Peacock launched with entirely new ad experiences for consumers, including solo ads and on-command ads.
The COVID-19 pandemic forever changed my perspective on:
The resilience, integrity, bravery – and CREATIVITY – of humans around the globe.
How has the pandemic shaped the industry's future?
The industry was changing regardless. Now this pandemic has immediately forced change — a whole lot faster than anybody expected. This moment is presenting us an opportunity to change everything. And that's exactly how we are approaching things at NBCUniversal. It's goodbye to legacy thinking, forever. It's become extremely clear: as marketers, we have a unique opportunity—and a serious responsibility—to jumpstart the economy. The mantra for NBCUniversal is that we are investing in transformation now to see returns in the future. And that means everything from cutting down on commercial time, giving advertisers more flexibility, and combining technology with creativity in totally new ways. Marketing right now is essential: no other industry can cut across every sector the way we can to reach millions of people. We need advertising now more than ever: to drive demand, to move sales, to grow businesses, to create jobs. That's how we can keep families afloat, and keep our economy going. But it's also not just more marketing, it's doing MORE as a marketing community.
Without sports on TV, I have…
Peacock! Look, I'm a big sports person – I miss my teams, and the Olympics is my holy grail of binge-watching. But, let me tell you when you combine the emotion of "This Is Us" with the high stakes of the Housewives or the Kardashians, you get a feeling that's not that far off from watching a big game. And we're with you the whole time, offering creative and ENJOYABLE commercial experiences to rival the best Superbowl ad. We did not plan to launch Peacock during a pandemic – but we can never overstate the power of FREE. It's a massive library of your favorite movies and TV, alongside timely updates and trusted live news people can't get anywhere else. And there's more than enough content to last until NFL kickoff.
The first thing I'll do when I'm back in the office is…
I'll walk the halls to say hello to everyone. This company is the people—and this whole experience proves how resilient and selfless every single person is. And I cannot wait to thank them all – IN PERSON.
My prediction for AVODs is….
Easy – it's the future of this industry. It's the future of entertainment and advertising. It's what consumers want. Long before this crisis began, we found that 80 percent of viewers would prefer a free service with ads to a paid service. Who could blame them? With subscription fatigue on the rise, and services charging more money for less content—we have been long overdue for an AVOD solution. Right now, "free" sounds great to everyone. People are seeking out more content than ever before for distraction, information, connection; And brands critically need audiences, creative partnerships, and ad technology that can drive impact. AVOD brings the best of every world together. That's why we've invested so much in Peacock…and why we're so excited to see it fly.
Working from home has taught me…
There are so many people doing incredible things in this world, including every person on the frontlines. And for any person, in any industry, working from home requires an incredible amount of flexibility, patience, and—especially if you have small kids or pets as coworkers—exceptional balancing skills. For the people in the media industry the shift to working from home required its own type of ingenuity. And we see it every day here. In a matter of days, we shifted production to our living rooms and started using technology in totally new ways—because we knew our company, and so many peoples' livelihoods, depended on our ability to think and act quickly. This moment has forced us to find new ways to take care of each other. Daily office hours, virtual happy hours, co-worker exercise groups, even a simple video check-in…all of it adds up to a sense of connection and empathy that is so, so important.
When restaurants open back up, my first stop will be…
If restaurants are open, that means we're allowed to gather together again. And that means my first stop isn't to a restaurant at all, but to our parents' homes. Restaurants wish they could top their Sunday supper. Then on Monday and Tuesday, look for me at Lupa or The Little Owl.
The biggest challenge facing advertising is…
Legacy thinking. We have the permission to change and accelerate our industry's (very necessary) transformation. So, we need to tear up the old playbook and write a new one. Courageous leaders need to take strategic risks and challenge conventional wisdom. Right now, all of our futures are intertwined. So let's work together. Let's share our technology, our training programs, our data and insights. Let's foster a climate of trust, radical transparency, and meaningful collaboration so we can come out of this stronger. Embrace transformation before it leaves us behind, and do everything we can – together – to power our country's economic recovery.
The last show you binged not on your networks is…
"Ozark." I'm obsessed with Julia Garner, who plays Ruth.