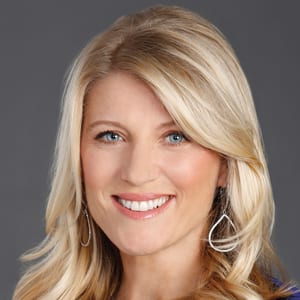 Molen is settling nicely into her role, having been promoted to handling day-to-day sales operations in October 2018. In just a year, she's guided multiplatform campaigns with four advertisers following E!'s acquisition of "The People's Choice Awards" and led Telemundo to earning more than $225 million in ad revenue through the 2018 FIFA World Cup. She's a passionate supporter of #SeeHer, which led to the creation of a "Today" activation sponsored by Citi. "Companies need to put real systems in place that support working women," says Molen. "It should be easier for women to return to the workforce, without a penalty, after having a child."
What specifically does your company do to support and elevate the women who work there?
I'm lucky to work for a company that is ranked as one of the top 10 best places to work by Fortune for both diversity and parents. From new hires to the executives in the corner office, Comcast and NBCUniversal value the role that all different types of individuals—and especially women—play in making our company great. For example, on my team, we've adopted job shares and flexible work schedules in order to create more opportunities for women in a way that makes the most sense for them and their families. Of course, this is just the beginning. There is so much more work to be done, and that job belongs to each and every one of us.
How can the industry do a better job of recruiting women and ensuring they have a path to senior positions?
Companies need to put real systems in place that support working women. For instance, it should be easier for women to return to the workforce, without a penalty, after having a child. That's why, at NBCUniversal, we have a program called Here She Can, which focuses on respect, equity and opportunity for women at all stages of their career at NBCUniversal. It features something we call "returnships," which empowers individuals as they rejoin the workforce. Initiatives like these make a big difference, and they're something every company can do.
What advice would you give your 13-year-old self?
My advice to myself at 13, and for my daughters today, in the workplace and in life, is to be fearless. Fearlessness doesn't come from success; it comes from the twists and turns you encounter along your journey. No one's life is a straight line. You will face setbacks, you will take sudden turns, but that is what builds your confidence.
What changes, if any, has your company enacted since the dawning of the #MeToo movement, and what results have ensued?
At NBCUniversal, we have always supported women in their careers, and we continue to push ourselves do to better as a company and as an industry leader. We are committed to creating not only a safe and supportive workplace, but also to accurately telling a diverse array of women's stories across our portfolio. That's why we partnered with the ANA and The Girl's Lounge on their #SeeHer initiative. We made it our goal to increase portrayals of women and girls in media by 20% by 2020, and it's already been an incredible success.
Which current shows best reflect the kind of women's roles you like to see and why?
There are so many great examples of powerful women on TV today that it's hard to pick just a few favorites. On "This Is Us," I love all the strong women, but in particular Susan Kelechi Watson's character and her relationship on the show to her husband—they trade off who is the breadwinner, they support each other, they share the family roles. On "Keeping Up with the Kardashians," viewers get to see a family of strong women who all work together, who are not afraid to be judged or to stand up for what they believe in, and who have become business moguls. And of course, on "The TODAY Show," Savannah Guthrie and Hoda Kotb are absolutely incredible anchors who not only pivot seamlessly from soft to hard news, but who bring their true selves into their work, including their experience as moms. In doing so, they form a real connection with their audience, and give strength to women across the country.