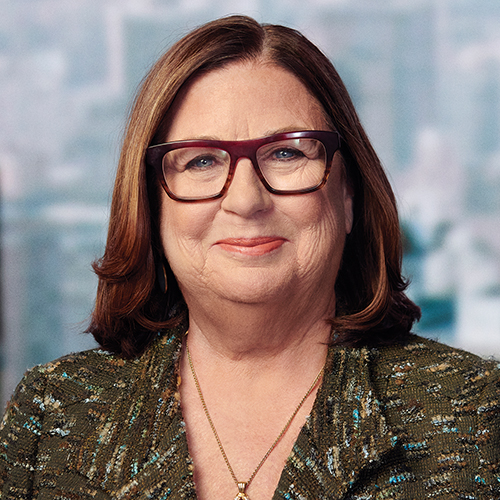 Following the ViacomCBS merger, Ross' responsibilities only got bigger. She's responsible for ads sales across a portfolio of nets and brands that reach the largest share of a TV audience in the US. Ross guided ViacomCBS through the company's first-ever upfront, and during COVID at that. She also led the development of the company's new connected video advertising platform, ViacomCBS EyeQ. Outside of work, she's active in supporting female empowerment, including #SeeHer, the Association of National Advertisers' initiative to promote girls and women accurately in the media. "Now is the time for productive and meaningful change and impact," she says. "It's time to move from conversation to action."
What is one of your proudest moments during the pandemic? Integrating Viacom and CBS sales and marketing teams in March, April and May posed significant challenges. We have overcome these hurdles, and we are working as one cohesive team solving big problems and keeping our important advertisers happy and growing. I am also proud of the work that ViacomCBS has done, and in particular CBS News, to recognize and support the BLM movement.
How has your leadership style changed during the pandemic? As leaders, we have all had to adapt our style to fit an unusual situation. Lately, I have been most concerned with how our teams are doing mentally as the pandemic drags on into Q4 and 2021. Now I know my senior leadership team may argue this statement, but the truth is that I've become far more flexible than I have been before. There are lots of ways to get the job done to meet the needs of our advertisers and keep our internal team safe, healthy and motivated. Through both corporate initiatives as well as my own, we are actively seeking ways to get people to adapt to working from home while focusing more on their health and well-being. Zooming knows no boundaries and zooming needs boundaries. We will make it through these difficult times and hopefully have some fun along the way, but if we don't come out the other end in one piece then what was it all for? Work-Life balance has never been more important and it's a huge priority for me and my team right now and in the future.
What is the biggest factor needed to eliminate gender inequality in the workplace? To a certain extent, we need to keep doing what we are doing. I say that because most big media companies have 50/50 balance of men and women in the workplace. That is a good place to begin, but not end. As a woman in a senior leadership role, I am still in the minority at that level and the same is true at other media companies. I am happy to see more and more women in top roles throughout the industry and this success will beget more success. When we can sit in board presentations and client meetings and see an equal ratio of men and women, as well as diversity, then we can pat ourselves on the back and say "job well done," but we aren't there yet and there is still important work to do. Now is the time for productive and meaningful change and impact. It's time to move from conversation to action.