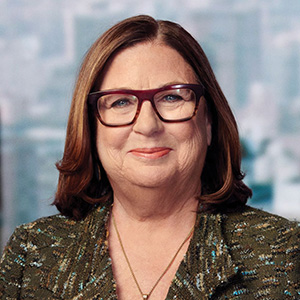 Years in Industry: Over 30 Years
Education: American University
Hopkins already had a track record of landing big distribution deals at CBS, and that reputation has only increased under the combined ViacomCBS umbrella. In January, Hopkins landed a carriage deal with Comcast, the company's first major domestic distribution partnership. The deal brought CBS All Access to Xfinity X1 and Flex platforms, the first time the service was offered through an MVPD-based set-top box. Ross, the first woman to serve as sales chief of a broadcast network, led sales for her sixth Super Bowl effort in 2019, selling out inventory and driving record ad revenue. Ross is getting ready to out-do herself for Super Bowl LV on CBS in 2021, assuming COVID doesn't delay it.
The COVID-19 pandemic forever changed my perspective on:
Working from home. I miss my colleagues and the "in office "atmosphere.
How has the pandemic shaped the industry's future?
The industry has embraced adaptive creativity and use of technology and at the same time has validated that personal relationships are key to our business as we move forward.
What about travel used to annoy you but that now you actually miss?
The Q train
Last content I streamed:
"Fauda"
Working from home has taught me:
To be patient with my husband, which includes muting myself!!
Best TV commercial you've seen recently?
Any spot that features dogs, children, and healthcare workers … not necessarily in that order.