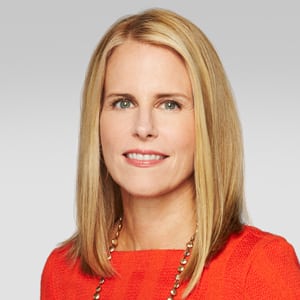 Mirgorod recently expanded her responsibilities. Her team is responsible for setting the marketing, distribution and partnership strategy for the company's 10 domestic networks, and her broader role now includes oversight of strategic partnerships between the division and Turner's portfolio of brands, where she serves as the conduit to each of the business leads to create cohesive content strategies with aligned communication across the company. Additionally, she was instrumental in closing a number of major multiplatform deals throughout 2016-17. "I think there is real merit in training around the concept of unconscious bias," she says of one way to reduce gender discrimination.
What is one way the industry can continue to evolve in ridding itself of gender discrimination?
I think there is real merit in training around the concept of unconscious bias. I have been privileged to attend two separate leadership programs featuring this topic. During the most recent one, Harvard Professor Mahzarin Banaji, took a group of us through her research and tests for bias. There were a lot of "aha moments" for both the men and women in the room, as Professor Banaji explained that we all have biases. I believe my company, Turner should roll out this training across the organization, and others in the industry should consider it too.
Best advice for relieving stress?
I've been consistently working out 3-5 days per week early in the morning for the past two years, and I've found that I can deal with stress much more effectively overall and significantly better on the days I've worked out. I do a mixture of high intensity interval training, strength training and running. The down side is that some part of my body always seems to be sore, so my go to pain reliever is an epsom salt bath in the evening (which is a great stress reliever too)!