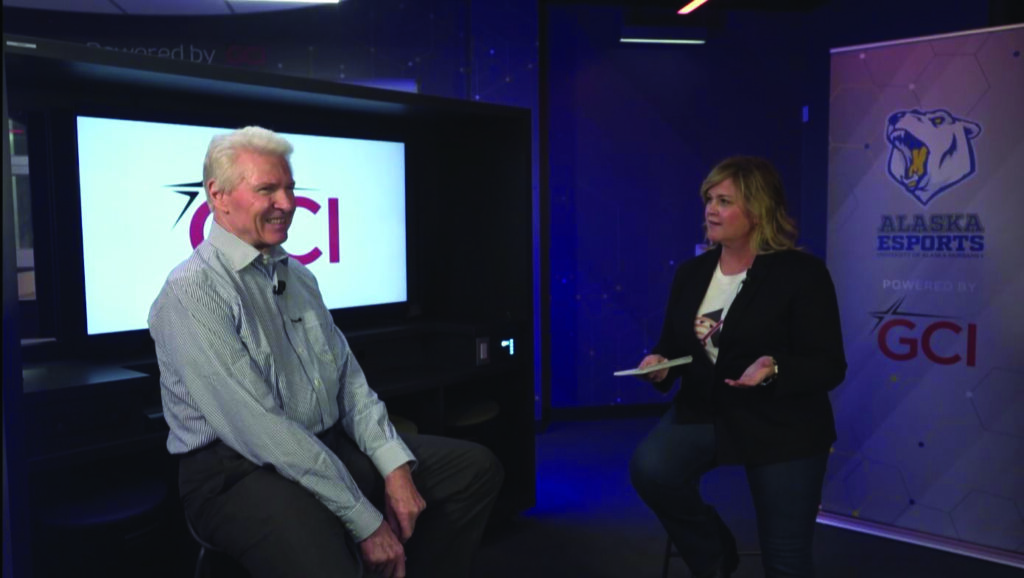 Alaska may have been one of the last states to join the nation, but thanks to GCI, it's leading the way in internet connectivity.
There are challenges to extending broadband into rural areas—and then there is Alaska. Lovingly referred to as The Last Frontier, the 49th state has the perfect storm of weather, glaciers, mountains, islands, environmental concerns and other obstacles that make the digital divide look even more treacherous. And yet, when GCI completes upgrades in 2022, Alaska will lead the U.S. in 2 Gig speeds, with more than 77% of residents having access.
Furthermore, the company has announced plans to provide 10 Gigabit speeds to its footprint within the next five years. "We have made many investments and commitments to be ahead of where the industry is. Every time we have done that, we have seen benefits for Alaska and our company," says GCI CEO Ron Duncan.
GCI announced its 2 Gig and 10G plans at a virtual press event in May at the Alaska Esports Center at the University of Alaska at Fairbanks. It included an appearance from NCTA president/CEO Michael Powell. "How fitting that Alaska, this great expanse that inspires our imagination, has moved into a leadership position on the road to 10G," Powell told the virtual crowd. "Personally, I'm not surprised because I know that Ron Duncan and his phenomenal GCI team have made it their lives' work to bridge the digital divide."
Duncan is often asked about the need for speed and why GCI has been so aggressive in getting ahead of the curve, first with 1 Gig service, now 2 Gig, and setting a goal for 10G. The tendency is to think of 10G being driven by the next big app. In Alaska, however, remote communities rely on telecommunications to further sectors like healthcare, education, and business.
"Alaskans have been adopters of technology and telecommunications at a rate that exceeds people in the lower 48. This is about betting on the future and…we don't see an end to the demand for connectivity… Being at the forefront will be great for the state," Duncan says.
Getting to gigabit and beyond has involved a series of maneuvers including laying fiber, but also utilizing DOCSIS upgrades and roadmaps, in collaboration with CableLabs, and implementing newer architectures. For example, GCI is one of the first adopters of CommScope's Remote PHY nodes.
Not to mention the fact that TERRA, the company's hybrid fiber-microwave network, includes 22 mountaintop towers that are accessible only by helicopter. Alaska's rugged terrain might have deterred the faint of heart, but over the years, GCI has taken advantage of federal programs to help meet the challenges.
In 2020, GCI received a $25 million grant from the USDA's RUS program and announced it would invest $33 million of its own money to lay more than 800 miles of fiber undersea starting in Kodiak, connecting the Aleutian Islands and ending in Unalaska. Similarly, in conjunction with Yukon-Kuskokwim Health Corporation, a Tribal health organization, GCI has applied to the NTIA for $53 million in grants to bring fiber to Bethel, Alaska.
"We are dealing with tremendously small communities, many of which have several hundred residents or less…making the business case to deploy a $50 million microwave system (for example) is difficult. But when the federal government partners with you, it accelerates upgrades," Duncan says.
The creative and successful combinations of technology and desire to stay at the forefront of telecommunications has made GCI a "proven case study" as CableLabs looks toward the "converged network of the future," notes CableLabs VP Jeff Leget.
"By leveraging an entire suite of network technologies, GCI has been able to deliver exceptional broadband access to urban residents in Anchorage and the remote residents of the Aleutian Islands. CableLabs continues to deliver to GCI hybrid-fiber and wireless technology solutions that benefit all Alaskans, and GCI helps CableLabs to showcase cutting-edge technology solutions in some of the most unique environments," Leget says.