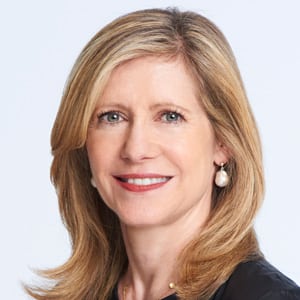 One of Berwick's chief goals this year is to grow viewership at E!, and viewers this month will weigh in—literally—on whether this is being accomplished when the entertainment network begins airing the "People's Choice Awards." The two-time Peabody and multiple Emmy award winner is continually striving to balance entrenched brands—like the Kardashians on E!—with fresh content to entice viewers. Oxygen, which also falls under her purview, has seen double-digit growth since it rebranded as a female-targeted true crime network last year. As the purveyor of many of TV's top unscripted stars, Berwick also has to balance inevitable controversies on social media and at live events. She believes there's room on the red carpet to talk about Me Too and Time's Up along with fashion and awards.
Who is an inspirational woman you admire, and why?
NBCUniversal Cable chairman Bonnie Hammer because she consistently challenges the status quo and forces us to lean into change, reinvent the playbook even when it's working and take risks. It drives success—and excitement.
What's been the most dramatic change in your sector of the business today vs. three years ago?
The continued explosion of content, but in particular the elevated storytelling and quality of production across all genres and platforms.