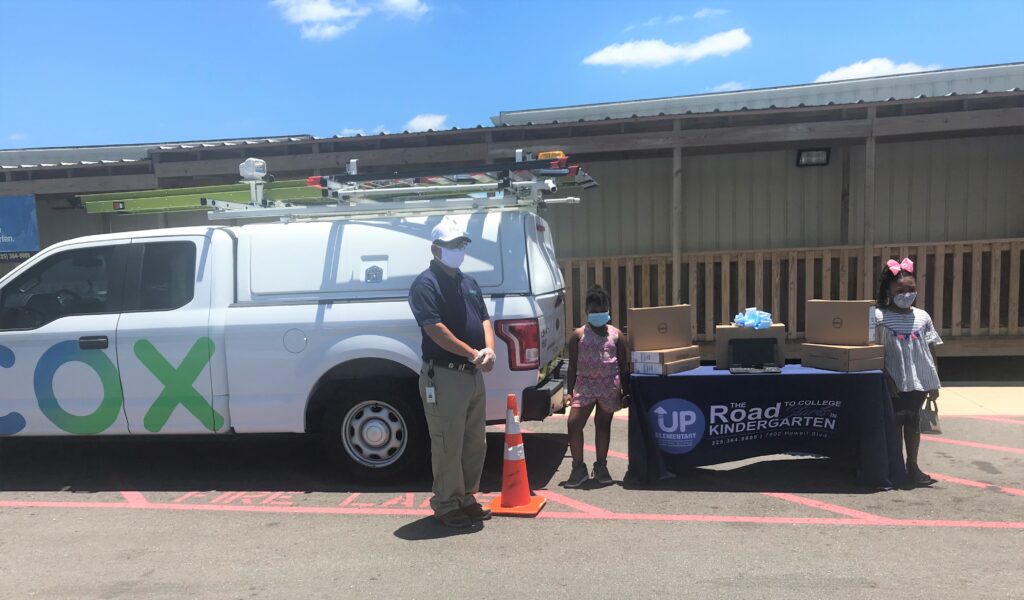 Cox Communications takes a 360 view of serving the community.
For years, Hallmark Cards wore the crown for commercials that socked you in the emotional gut. These days, it has some serious competition in Cox Communications.
Over the past year, the video and internet provider has left us sniffling with a series of spots that feature employees calling lonely seniors during pandemic lockdowns as well as its "Full of Love" campaign surprising healthcare heroes with home-cooked meals and video calls from family. The company even created a short film that animated one middle school's play that was canceled by COVID-19.
Those familiar with Cox's decades of public service know this isn't just savvy marketing. It's part of a commitment to community building that the more than 100-year-old family company was built on. Cox's parent, Cox Enterprises, was founded when James M. Cox bought the Dayton Evening News and dubbed it "the people's paper." Cox, who became governor of Ohio in 1913, added more newspapers as well as radio stations to the business. It's continued to grow to include cable, advertising and automotive, with an unwritten requirement that these businesses help the communities they serve. That philanthropic spirit became even more important during the pandemic.
"I think that our community impact was so significant, because when COVID hit, we weren't starting from scratch," says Leigh Woisard, SVP of Public Affairs for Cox Communications. "We already had really deep roots in the community, strong employee volunteerism, and really well-gelled partnerships."
That head start allowed Cox to quickly adjust efforts to best help organizations dealing with school closures, financial instability and health crises brought on by the pandemic.
"Cox has always demonstrated its commitment to closing the digital divide for Boys & Girls Club youth and families through its Connect2Compete program and implementation of technology innovation labs in over 100 Clubs across the country. However, during the pandemic, the partner's loyalty reached new heights as Cox immediately shifted its focus to meet new needs of Clubs," says Chad Royal-Pascoe, Acting SVP, Resource Development, Boys & Girls Clubs of America. "By providing much-needed grants for learning support centers, Club staff continued serving youth onsite for distance learning in a safe environment, while supporting them with the use of digital platforms like Boys & Girls Clubs of America's MyFuture and other virtual Club experiences."
Other examples of Cox's community-mindedness can be seen in the hefty donations it made to food banks as well as its work with more than 500 schools to make Connect2Compete, its affordable home internet product for low-income families, more accessible.
On a smaller scale, some local hospitals in Cox's footprint asked for help in spreading info about COVID. Cox stepped in and put their content on demand, promoting it within the electronic guide—essentially giving the institutions free ad packages. With so many small businesses hurt by lockdowns, Cox offered up free, 30-second spots on local cable advertising that included a list of all the area restaurants that were open. "We had literally thousands of restaurants take advantage of those goodwill ads," says Woisard.
Some of Cox's efforts meant working with existing business customers who were now dealing with work-from-home for the first time. It quickly designed office bundle solutions, and even worked out bulk billing for companies with several hundred employees that didn't want their workforce to be billed for broadband for remote work.
As for those tearjerker video vignettes, Cox focused on how the technology it offers can help with human connection. "One Call A Day" had an impact on the isolated seniors who received friendly check-in calls from Cox employees, but it was a two-way street.
"We have an employee portal and there's a section where employees who participated in the program comment on their experience. When you read how into it our employees were and how much they looked forward to the calls, that was a little unexpected," Woisard says. "But that just goes to show you, when you're doing really good things in the community, it comes full circle and makes you a stronger company."