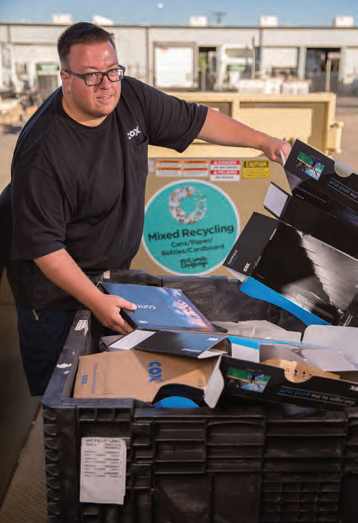 "Go green" and "reduce, reuse, recycle" are more than just clever catchphrases to Cox Communications. The cable operator talks the talk and walks the walk, viewing driving positive environmental change as one of the most important things it can do as a company.
Parent company Cox Enterprises first launched its national sustainability program in 2007. Since the inception of Cox Conserves, more than $100 million has been invested in sustainability and conservation projects. It's working hard to meet its goals to send zero waste to landfill by 2024 and to be carbon and water neutral by 2044.
"It really is in our DNA," says Cox Communications sustainable solutions director Kristina Waters. "We have the luxury of being a family-owned business, so we get to think multi-generationally."
Cox has focused on three key areas to make to create a holistic approach to waste management: waste reduction, customer engagement and strategic partnerships for electronic waste. While Cox has long been looking at what can be done internally to reduce
environmental impact, recent years have seen it looking beyond at how it can lead others to do the same. It started last year by taking a deep dive with its suppliers.
"What we recognized was achieving zero waste to landfill within our four walls just isn't enough," Waters says. "We wanted to look at how we could influence the rest of the ecosystem because every piece of material that we bring in has a pile of waste it leaves behind."
What Cox found as a surprise was that its construction contractors were itching for more information on how to become environmentally conscious in their work. Over the next year, Cox will develop a baseline resource for those contractors with tips on where to start as well as a mentorship program that will allow them to learn from experts how to reduce water waste and carbon impact on the work site.
Beyond the facilities themselves, Cox is continuing to look at ways to lower the carbon emissions from its supply fleet. Hybrid vehicles are common and it has even used natural gas on the freight side of the business.
A new line of bucket trucks is about to roll out that won't need to be idling in order to power the lift. Different materials were used on the back of the vehicles to make them lighter, lowering the amount of fuel needed to get from point A to point B.
"And because of some of those changes, it actually costs less than our old vehicles," Waters says. "So we found a way to win."
Cox also incorporated technology into the cab system that monitors the temperature, discouraging the driver from idling too much in order to keep the air conditioning or heater running. And while the modifications to the fleet have made significant change, regional leaders have been pushing for drivers to pay more attention to their daily energy consumption on the job.
"They've really taken the charge at driving better behaviors and driving more education amongst all technicians and what they can do to reduce their idle time—and how important that is to the business and our carbon impact," Waters says.
With so much progress being made within the Cox family, its corporate leadership is continuing to look at how it can take what it has learned through the years and use it to help others reduce their impact on the environment.
"Not only did we take a lot of the lessons ourselves, but we're immediately sharing those with our vendors and our suppliers so that we can share the knowledge and we end up working with partners in the industry that share our values," Waters says. "We're really excited as we look at the next step, taking it beyond our four walls to see what we can do to improve communities all over the world."
– Sara Winegardner