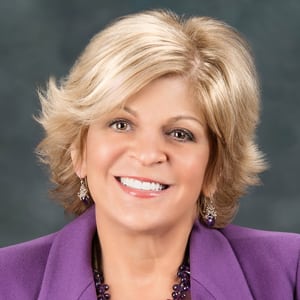 Carlsen's decorated career in executive search spans more than 30 years and includes more than 2,700 placements in industry roles. Her understanding of her clients' needs and ability to adeptly assess talent and character have made her one of the industry's most trusted personnel advisers. Earlier this year, NAMIC named Carlsen to its national Board of Directors, where she will serve a three-year term. She's also a member of the Cable Hall of Fame and is a former national president of WICT.
Who is your favorite current female TV character and why?
Daenerys Targaryen in Game of Thrones. An inspiring leader who values a diverse workforce and treats her people with respect. Plus: dragons!
What industry topic do you think will dominate industry headlines in 2018 and why?
Continuing transition from the supremacy of video to King Broadband.
What is one way the industry can continue to evolve in ridding itself of gender discrimination?
More/better training and hiring practices, more women on corporate boards and in C-suites.
What famous woman, living or deceased, would you like to have dinner with?
Clara Barton, who would have enough stories to fill a year of dinners. She led an amazing life of heroism, service, and leadership. As founder of the American Red Cross, her legacy continues to grow. OR: Bette Midler, who's generous, entertaining and hilarious — the perfect dinner guest!
Best advice for relieving stress?
Go for a long hike with my dogs.