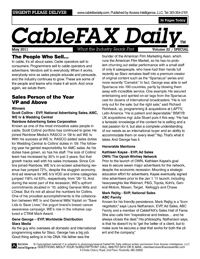 CableFAX: The Magazine's CableFAXIES Issue
Read the May 2011 CableFAXIES Issue
View photos from The CableFAXIES 2011 Event on Facebook!

The CableFAXIES honors the industry's most outstanding Marketing & PR Campaigns and the Top Marketers & Communicators.
Good communications is more than just good business — it's good show business
A TV show will not be seen unless it is properly sold to affiliates, viewers and the media. A cable subscription will not be bought if an operator's marketing, public relations and community involvement efforts are not superior to that done by satellite distributors and the telcos.
Recognizing the importance of marketing and PR in nearly every area of the cable business, CableFAX selects the leaders whose creativity and marketplace savvy propelled them to the top of their game. From the best media event to the best PR stunt to the best overall marketing campaign, this issue is a user's guide to the best in PR and marketing.


---
The CableFAXIES Marketing & PR Awards Issue
Issue: CableFAX Daily Awards Mid-Day May 2012
Bonus Distribution: CableFAXIES Awards

Advertising Rates available upon request.

Subscribe to CableFAX: The Magazine
Advertise in CableFAX: The Magazine
Reprint Inquires for CableFAX: The Magazine: Contact Writes Media at sales@wrightsmedia.com; 877-652-5295
Extra copies of CableFAX: The Magazine: Contact clientservices@accessintel.com or 800-777-5006
For advertisement and sponsorship opportunities contact:
Debbie Vodenos
Publisher, CableFAX Group
(301) 354-1695

Amy Abbey
Associate Publisher, CableFAX
(301) 354-1629
For Editorial questions, contact:
Mike Grebb
Executive Editor, CableFAX Group
301-354-1790
EVENTS
View Entire Calendar »
CableFAX Best of the Web &
Digital Hot List Awards Luncheon
March 20 | Grand Hyatt, NYC
Register Now

CableFAX FAXIES &
Sales Executive of the Year Awards Luncheon
May 14 | Yale Club, NYC