Cablefax: The most-trusted brand in cable, broadcast, and tech.
Cablefax is a media company and community for cable, broadcast, and digital professionals. We focus on quality and delivering readers insights they simply do not get anywhere else. The Cablefax team aims to produce the highest quality publications, conferences, and resources for our industry.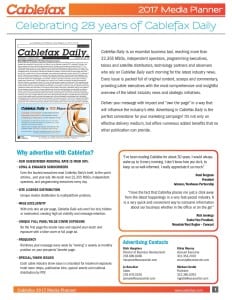 Cablefax content is distributed daily via Cablefax Daily and Cablefax.com. Our bi-weekly email newsletters, Screenster, The Skinny and CFX Tech give subscribers a round-up of our most engaging stories. Cablefax: The Magazine, distributed 7 times a year, highlights the industry movers and shakers.
Together, these publications reach more than 75,000 industry leaders.
2017 Media Kit          |      Cablefax Audience Profile    |       Editorial Calendar       |   Awards Calendar
For immediate advertising opportunities, contact:
Olivia Murray at omurray@accessintel.com or 301-354-2010
Ad Sizes
What leaders are saying about Cablefax
"I've been reading Cablefax for about 30 years. I would always wake up to it every morning. I don't know how you do it, to keep us so well-informed. I really appreciate it so much."
—Nomi Bergman President Advance/Newhouse Partnership
"I love the fact that Cablefax places me just a click away from the latest happenings in a very fast-paced industry. It is a very quick and convenient way to consume information about our business whether in the office or on the go!"
—Rich Jennings Senior Vice President, Mountain West Region – Comcast
"The Cablefax Roundtable is an excellent way to interact with industry leaders and discuss industry issues that we all care about deeply. Many thanks to Cablefax for its leadership on encouraging this important dialogue, which doesn't happen often enough. I'll go anytime they ask!"
—Matthew M. Polka, Pres/CEO, American Cable Association
"The depth and breadth with which Cablefax covers the industry is remarkable given that it typically does so in just 4 pages. The thing I most appreciate about Cablefax is the ability to quickly learn everything of importance – whether it's news, reviews or commentary."
—Talton Gibson SVP Marketing & Communications WICT
---
For all advertising opportunities, contact:
Rich Hauptner at rhauptner@accessintel.comor 203-899-8460
Olivia Murray at omurray@accessintel.com or 301-354-2010